About our Chancellor
Chancellor Thyreen served as president for more than 20 years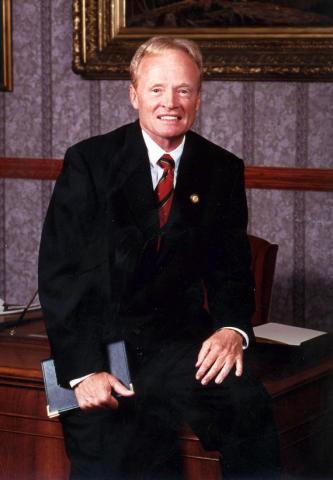 As Chancellor, Timothy R. Thyreen serves as an ambassador of goodwill for the University and endeavors to generate resources for the University. He works with alumni, donors, community leaders and organizations. Chancellor Thyreen participates in civic, charitable, corporate, educational and cultural activities that are consistent with his position and of benefit to the University. 
Prior to his current role as Chancellor, Thyreen served as President of Waynesburg University from 1990 to 2013. Among his many accomplishments, Thyreen led Waynesburg University to great heights.
His leadership resulted in:
A change from Waynesburg College to Waynesburg University
The creation of master's and doctoral programs, which have expanded Waynesburg University's geographic location with the addition of three satellite campuses in Southpointe, Monroeville and Cranberry
A doubling of enrollment
The construction of more than 12 buildings and renovated 10 other structures at Waynesburg University
An advance in faculty compensation from the lowest to the highest in the President's Athletic Conference
An increase of University endowment by 900 percent
An increase of number of academic majors from 30 to more than 70
A contribution of more than 750,000 hours of community service from students since 1990
Under Thyreen's leadership, the University became the first college in Pennsylvania to offer the prestigious Bonner Scholar Program and in 2004 was awarded an endowed scholarship for students interested in community service. In 1997, he established the A.J. and Rita Morris Center for International Programs. Thyreen also began the Stover Center for Constitutional Studies and Moral Leadership, a unique Waynesburg University program to develop future leaders based upon America's founding moral and constitutional principles.
Thyreen served in leadership capacities for several state and international organizations during his Waynesburg University tenure including:
Chairmanship of the Association of Independent Colleges & Universities of Pennsylvania
Chairmanship of the Pennsylvania Association of Colleges & Universities and the American Universities in Russia, Ukraine and the Newly Independent States
Appointment by the Pennsylvania Supreme Court in 1990 to the Pennsylvania Client Security Fund Board
Appointment by Governor Tom Corbett for a six-year term to the Pennsylvania Higher Education Assistance Agency Board of Directors
Membership of the Western Pennsylvania Conservancy Board
Thyreen was recently featured on The Raja Show in an episode entitled, "How Timothy Thyreen Has Redefined the Purpose of a College Education Beyond the Mere Byproduct of a 'Diploma Mill.'"  To listen to the full recording, click here.