175 Years of Light Fundraising Initiative
Commemorating Waynesburg University's 175th Anniversary
make a gift
Image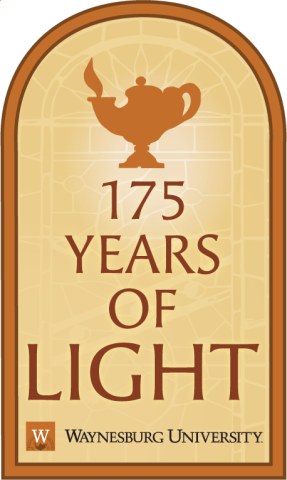 For generations, Waynesburg University has delivered on the promises made with the signing of the University's Charter.
Today, as in the past, the University continues to educate students with the character, courage, faith and compassion to shine brightly in these modern times.
In 2024, Waynesburg University will celebrate its 175th anniversary. As the University prepares for this special anniversary year, we launch our 175 Years of Light Fundraising Initiative. Collectively, we can secure the University's future for the next 175 years and beyond as we continue producing graduates of integrity to lead and serve in today's world.
Please consider a meaningful gift to our 175th Anniversary Fund, which will support our highest needs. 
$175
Gift: A brick in Veterans Memorial Plaza (between Stover Campus Center and Eberly Library; veterans only), Wiley Stadium or Cusick Court (between Miller Hall and Hanna Hall). Payments must be received by May 1, 2024. Installation will occur over the summer of 2024, with the unveiling at the 175th Homecoming celebration in October 2024.
Please click here to purchase your brick(s), as this requires a different form than other 175th Anniversary gifts.
$2,500*
Gift: A limited-edition 175th Anniversary commemorative coffee table book, featuring beautiful campus photography and inspirational quotes from past campus leaders and speakers. This will feature a list of all 175th Anniversary donors and will be available by spring 2025.
$10,000*
Gift: A bench dedicated in your name, or in honor or memory of a loved one. These cast-iron benches provide a place for faculty, staff, students and visitors to enjoy campus and are an important aspect of the overall landscape at the University. Recognition will be etched in a 5" x 8" plaque commemorating your gift.
$25,000+*
Gift: Additional naming opportunities throughout campus. These range from classrooms and labs; to fine arts and athletic facilities; to entire floors, wings and buildings. Please click here for more information and the full list.
New bequests
Gift: Paul R. Stewart Society certificate and pin, and a limited-edition 175th Anniversary commemorative coffee table book.
*Pledges can be paid over a maximum of 3 to 5 years, depending on the total gift amount.