Value and Rankings
Learn who is talking about our value, rankings and why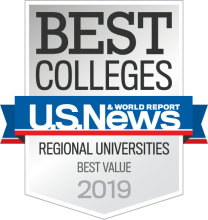 Waynesburg University continues to be a top value school, ranked among the top ten best deals of both private and public universities in the Northeast. 
As attention on higher education is turning toward outcomes and fiscal responsibility, new rankings systems that focus primarily on value and job placement are being developed. Consistently ranked as a top school within these systems, Waynesburg University has emerged as a national leader in educational value.
Who is talking about our value?
Why are they talking about our value?
4%
Our student loan default rate of 4% is far lower than the national average of 10.8%.
$10K
Tuition, room and board at Waynesburg is more than $10,000 below the national average for private, non-profit, four-year colleges.
90%
More than 90% of Waynesburg students receive some form of financial aid each year.
What else is new?
Other ranking systems that evaluate high-impact educational practices, commitment to service and campus aesthetics have recognized Waynesburg University.
High-Impact Educational Practices
Waynesburg University has been named a national College of Distinction for the third consecutive year. The award recognizes American higher education institutions for their commitment to the implementation of High-Impact Educational Practices. The University was also named a Christian College of Distinction, a Pennsylvania College of Distinction and, for the first time, a College of Distinction in Business, Education and Nursing.
Our commitment to service
The Corporation for National and Community Service (CNCS) named Waynesburg University to its most recent President's Higher Education Community Service Honor Roll. This is the University's eighth consecutive year receiving the honor. Waynesburg University was one of 115 schools on the General Community Service Honor Roll with distinction and only one of 12 in the state of Pennsylvania identified with distinction.
Our beautiful campus
Waynesburg University was recently named one of "The 50 Most Beautiful Christian College and University Campuses in the World" by Christian Universities Online. Ranked at No. 22, the University was one of three Pennsylvania institutions recognized. The schools recognized not only provide a high-quality education and thorough devotion to Christian principles, but are also aesthetically pleasing, "boasting some of the loveliest looking campuses anywhere on Earth," according to the Christian Universities Online website.
How do our programs rank?
Many of our top majors have been recognized for academic excellence and value throughout the region and nationwide.
Top 5 percent nationwide
Waynesburg University's Criminal Justice Administration Program was nationally recognized as a best value in the 2019 College Factual "Best Colleges Nationwide" rankings. The criminal justice program placed in the top 5 percent nationwide.
No. 1 in Pennsylvania
The Criminal Justice Administration Program was also recognized as a best value in the 2017 College Factual "Best Colleges Nationwide" rankings. Ranking No. 25 out of 373 similar school programs in the nation and No. 1 in the state of Pennsylvania, Waynesburg's program placed in the top 10 percent nationwide.
Top 5 percent FOR VALUE
Waynesburg University's Department of Communication was nationally recognized as a best value in the 2019 College Factual "Best Colleges Nationwide" rankings. The University was placed in the top 5 percent nationwide for communication and journalism.
Student newspaper wins big
The student-run newspaper at Waynesburg University, The Yellow Jacket, recently received two awards from the American Scholastic Press Association (ASPA). They include First Place with Special Merit and Most Outstanding Cover or Front Page.
During the 17-18 academic year, The Yellow Jacket also won nine Mark of Excellence Awards from the Society of Professional Journalists Region 4, which includes Ohio, Michigan, West Virginia and western Pennsylvania. The newspaper's staff members received the awards in the categories of feature writing, general news, feature photography and sports writing.
In 2017, The Yellow Jacket received eight awards from the Pennsylvania NewsMedia Association (PNA) in the Division II category, for four year colleges and universities with enrollment under 10,000, from work during the 2017 calendar year.
In 2016, the newspaper won the Society of Professional Journalists' (SPJ) 2016 Mark of Excellence Award for In-Depth Reporting, Small School Division. The award represented the newspaper's first national-level win.
Top value in Pennsylvania
Waynesburg University's Graduate Programs in Counseling have been ranked a top value in Pennsylvania based on data that was provided in part by the Council for Accreditation of Counseling & Related Programs (CACREP) by Top Counseling Schools (TCS).
The ranking cited the University's accredited programs in addiction counseling and mental health counseling, in addition to single-digit class sizes, National Counselor Exam (NCE) pass rates just under 90 percent, and job placement rates of virtually 100 percent shortly after graduation.
Strategy for the 21st Century
Steadfast Commitment to Mission, Outcomes and Value
Waynesburg University consistently receives accolades as a University of distinction for its mission, outcomes and value. Those same differentiators often drive students' decisions about education. With the world of higher education constantly changing, Waynesburg University continues to strategically evolve while remaining focused on these very important factors.