Value and Rankings
Learn who is talking about our value, rankings and why
Waynesburg University continues to be a top value school, ranked among the top ten best deals of both private and public universities in the Northeast. 
As attention on higher education is turning toward outcomes and fiscal responsibility, new rankings systems that focus primarily on value and job placement are being developed. Consistently ranked as a top school within these systems, Waynesburg University has emerged as a national leader in educational value.
Who is talking about our value?
Why are they talking about our value?
4.6%
Our student loan default rate of 4.6% is much lower than the national average of 9.6%.
$11K
Tuition, room and board at Waynesburg is approximately $11,000 below the national average for private, non-profit, four-year colleges.
90%
More than 90% of Waynesburg students receive some form of financial aid each year.
Waynesburg University is a "College of Distinction"
Recognition honoring high-impact educational practices and a commitment to engaged, hands-on education.
Waynesburg University has been recognized as a 2021-2022 College of Distinction for its continued commitment to engaged, hands-on education. This marks the sixth consecutive year that Waynesburg has earned the distinction.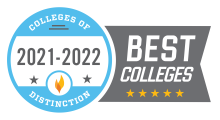 The University was also named a Pennsylvania College of Distinction and a Christian College of Distinction, as well as a College of Distinction in Business, Education and Nursing
The designations highlight schools that foster a dynamic learning community through a specialized focus of student-centered education.
How do our programs rank?
Many of our top majors have been recognized for academic excellence and value throughout the region and nationwide.

Best Value Program
Waynesburg University's Criminal Justice Administration Program was awarded a "Best Value" distinction by College Factual, placing in the top 5% nationwide and ranked No. 1 in the state of Pennsylvania.
---

Best Online Master's
Waynesburg University's Master of Arts in Criminal Investigation (MACI) Program was ranked a "Best Online Master's in Crime Scene Investigation" by Intelligent.com for the third consecutive year.

Top master's program
Waynesburg University's Addictions Counseling Program was recently recognized as a 2021 Top 50 Master's Counseling Program for Addiction Counseling by Addiction Counselor, being ranked No. 4 in the country.
Overall Rankings and Recognition
Review all of Waynesburg University's regional and national recognition.
Archived National Rankings
Strategy for the 21st Century
Steadfast Commitment to Mission, Outcomes and Value
Waynesburg University consistently receives accolades as a University of distinction for its mission, outcomes and value. Those same differentiators often drive students' decisions about education. With the world of higher education constantly changing, Waynesburg University continues to strategically evolve while remaining focused on these very important factors.