The Nest
Waynesburg University's official campus store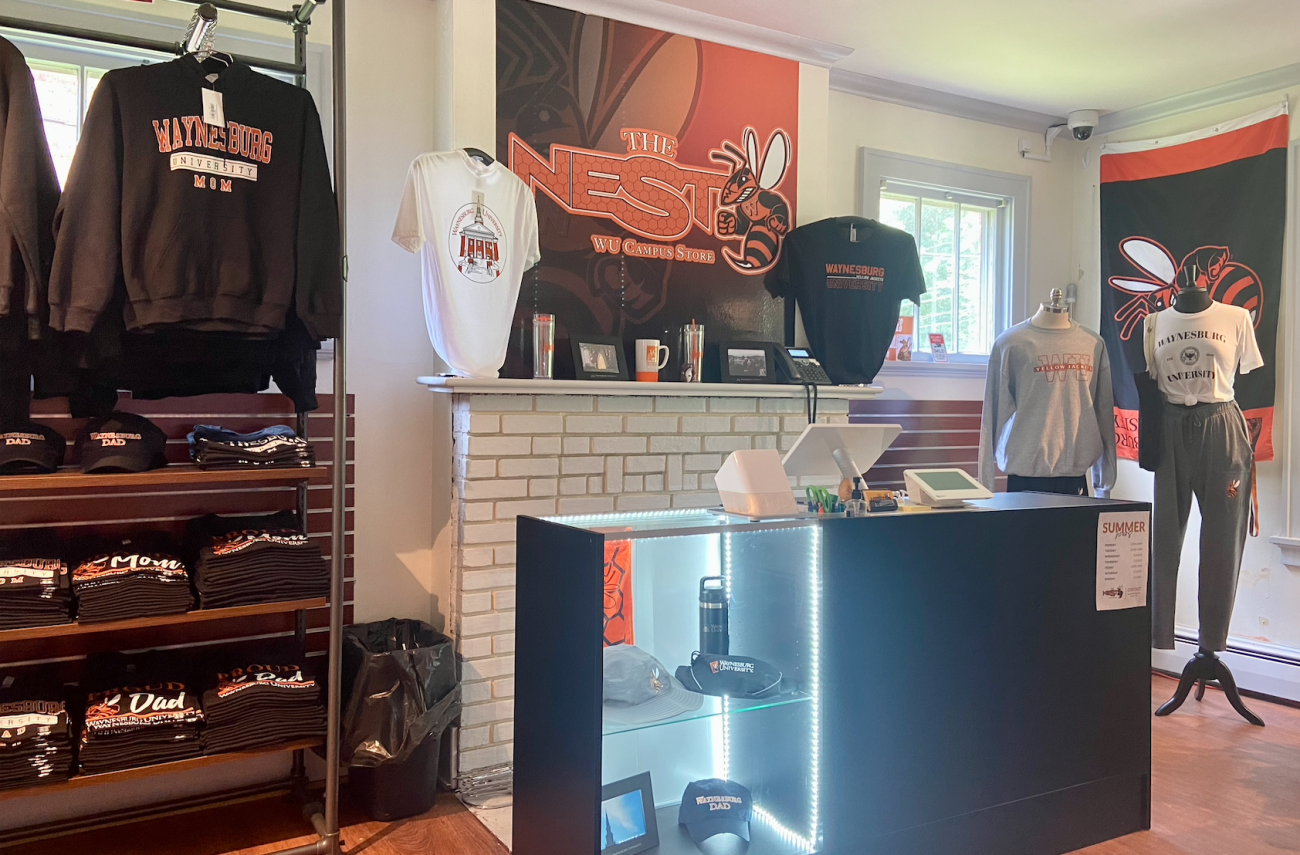 Store Information
HOURS
Monday, Oct. 2: Noon - 4 p.m.
Tuesday, Oct. 3: Noon - 4 p.m.
Wednesday, Oct. 4: Noon - 4 p.m.
Thursday, Oct. 5: Noon - 4 p.m.
Friday, Oct. 6: Noon - 4 p.m.
Saturday, Oct. 7: 10 a.m. - 2 p.m.
Sunday, Oct. 8: Closed
Contact Us
Address:

 84 Wayne Street, Waynesburg, PA 15370

PHONE:

 724-852-3287
We are hiring for the upcoming academic year.
Apply below to join our team! 
Phone orders
We currently do not have an online store, but if you would like to place a phone order, please call us at 724-852-3287 or email us at nest@waynesburg.edu.
About The Nest
The Nest, WU's official on-campus apparel store, is a student-operated learning lab under the management of the Entrepreneurial Leadership Program and the eHIVE. 
We feature an assortment of Waynesburg University apparel, merchandise, and specially selected items produced for our campus community. We also showcase products made by our faculty, staff, and students. 
If you need additional information or have questions regarding the Nest, please contact the Nest at nest@waynesburg.edu. 
The Nest renovations were made possible through a generous donation from a 1974 alumnus, Dennis Ellis. Ellis established his gift as a way to honor Rudy Marisa for his guidance, mentorship and coaching, both on and off the court.
Rudy's Place
The second floor of The Nest, called Rudy's Place, offer games and gathering space for Waynesburg University students. Rudy's Place is outfitted with video and arcade games, including Avengers and Star Wars pinball, dartboard, pop-a-shot, bubble hockey, a foosball table, etc., and two large screen televisions!