President's Message
A personal welcome from our president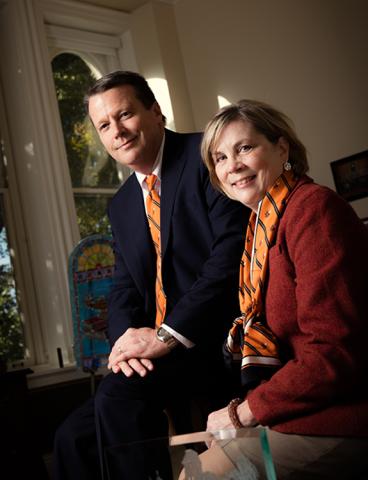 In a complex world full of unique individuals and thousands of paths for each to take, a select group of servant leaders committed to making a positive impact on the world join together at this University in a fellowship of learning, teaching and serving.
Together, we bring to life the University's important mission of inspiring and challenging every undergraduate and graduate student to a life of leadership and purpose for the glory of God.
Serving as educators, facilitators, motivators and mentors, Waynesburg University faculty and staff nurture and challenge the spirit of our students and guide them on their journey to become world changers, discoverers and explorers, as well as curators and stewards of God's kingdom. Our rich history reflects that Waynesburg University students have been catalysts for positive change and models for exceptional bravery and honor since the University's founding in 1849.
This is why I am proud and honored to serve as Waynesburg University's President. Staying the course charted by Waynesburg University founders, President and Mrs. Thyreen led the institution in a spiritual regeneration, guiding the University to new prominence in Christian higher education. The work and profound dedication of the Thyreens has been an inspiration to me as I serve as President.
My wife, Kathryn, and I remain committed to preserving the University's traditions of academic excellence and steadfast faith to withstand a changing world. Likewise, I pledge to encourage our students and alumni to positively influence change in the world through making ethical decisions and living lives of integrity.
I believe that we as Christians have the unique and God-given ability to define what we do in a way that can be a very compelling witness to the true nature of our Lord, Jesus Christ. As President, I have the privilege and responsibility of continuing the leadership of Waynesburg University toward that purpose.
Douglas G. Lee
President
---
About our President
Waynesburg University President Douglas G. Lee joined Waynesburg University as Executive Vice President in October 2009, working closely with then-President Timothy Thyreen. He was unanimously elected President of the University by the Board of Trustees in September 2012 and took office July 1, 2013.
Under Lee's leadership, Waynesburg University has received national attention for the economic outcomes of its graduates. Studies published by The Brookings Institution, The Economist, USA Today and MONEY Magazine have placed Waynesburg University at the top nationwide for this type of category. Waynesburg University has also been regularly recognized by U.S. News & World Report as a Best Value School, most recently ranked No. 3 in the state of Pennsylvania on their 2022-2023 Best Value Regional Universities North list. Read more about the University's value and rankings at waynesburg.edu/value.
Also under Lee's leadership, the University has been recognized regionally by the Pittsburgh Business Times as a Best Place to Work for 2015 and internationally as one of the most beautiful Christian college campuses in the world. In March 2015, the Middle States Commission on Higher Education (MSCHE) awarded Waynesburg University reaccreditation for a ten-year period, and in September 2015, the University was awarded Imani Christian Academy's 2015 Leadership in Service Education Award. The University was also named to the President's Higher Education Community Service Honor Roll for eight consecutive years. 
During the coronavirus pandemic, the University developed and implemented a health and safety plan that allowed for the successful completion of the 2020-2021 academic year in-person and on-campus without layoffs or reduction in benefits to any employees.
Lee recently led the $23 million revitalization of the Paul R. Stewart Science Hall, a major renovation project that overhauled the interior of the building and updated its exterior to match the overall architectural context of the University's campus.
During his time as president, the University has also grown in programmatic offerings, including the Stover Center for Constitutional Studies and Moral Leadership. In addition to its undergraduate programming, the Stover Center annually hosts a continuing legal education seminar for judges, scholars and practicing attorneys at Jesus College in Cambridge, England. 
The University has also implemented a Center for Entrepreneurial Leadership, chaired by Dr. Melinda Walls, the recently elected President of the United States Association of Small Business Entrepreneurs and a member of a PRAXIS subcommittee on nonprofit entrepreneurship. A Pathways Center has also been developed, focusing on integrated and comprehensive student success. Part of this new program is the University's Achievement Academy, which offers college courses to high school students as well as seminars and other services to post-graduates. 
Lee has served as the Chair of the Presidents' Athletic Conference (PAC) Presidents' Council and on the Board of Directors for the Association of Independent Colleges & Universities of Pennsylvania (AICUP). He was recently appointed to the NCAA Division III Board of Governors. Lee previously served as Chair of AICUP's Members Services Committee for two years, from July 2020 through June 2022, and was recently elected secretary/treasurer of AICUP's Board of Directors. 
In 2022, Lee was named a Paul Harris Fellow by The Rotary Foundation of Rotary International and received a peer-reviewed "Very High Rating" in both Legal Ability and Ethical Standards from Martindale Hubbell. He was selected as an awardee of the Pittsburgh Business Times 2017 Outstanding CEO's and Top Executives. He was a co-recipient of the Southpointe CEO Association's World Class CEO Award for 2016 and was named to The Pennsylvania Business Central's Top 100 People list of 2013. He was also the recipient of the Boy Scouts of America's (BSA) General Greene District of the Laurel Highlands Council's 2015 Good Citizen Award and has been recognized in The Best Lawyers in America®, having spoken and written extensively on workers' compensation and labor and employment law topics. 
The Charleroi, Pennsylvania, native and son of the late Gilbert G. Lee Jr. and Donna Duvall Lee is a 1977 graduate of Charleroi Area High School and a 1981 graduate of Waynesburg University. After graduation, he formed a multi-line insurance business, building the business while also attending law school. Lee sold the business upon graduation from law school and joined the law firm of Steptoe and Johnson. He became a partner in the firm in 1998 and managed a practice group consisting of nine attorneys and 15 paralegals.
During this time, he remained active at Waynesburg University and was instrumental in the formation of the University's Alumni Council. Dedicated to his alma mater, Lee served as a member of the Board of Trustees including Chair of the Academic Matters Committee and Board Secretary.
He is an elder at the Presbyterian Church, has served on the Greene County Planning Commission and is a graduate of Leadership West Virginia. He is an Eagle Scout, has served on the Executive Board for the Mountaineer Area Council Boy Scouts of America and is a member of the Fort Jackson Chapter, Sons of the American Revolution. 
Lee has served on the Board of Directors for the Union Rescue Mission in Fairmont, West Virginia, the Harrison County Bar Association Board of Directors, the Westminster Foundation of West Virginia and the Howe Cemetery Board. He was a volunteer fireman for more than 13 years.
An endurance athlete, Lee is a finisher of three Ironman Triathlons and six marathons, including the Marine Corps Marathon and Death Valley Marathon.
He is married to his high school sweetheart, Kathryn, and they have two children and two grandchildren.