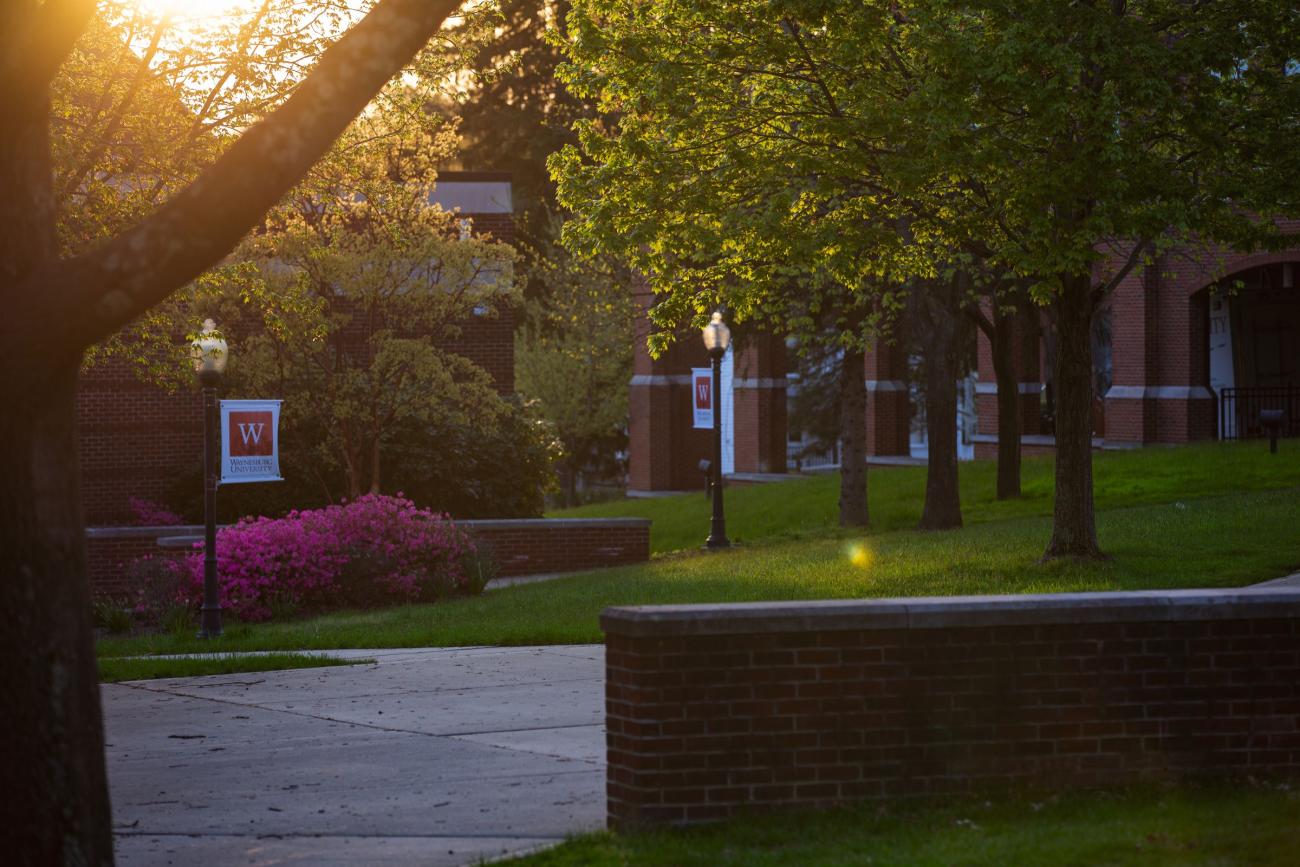 Our Department of Public Safety provides 24/7 campus coverage.
The small community atmosphere both within the university and the town of Waynesburg provide a pleasant and peaceful place to live. Even so, we remain cognizant of current challenges and wide-ranging safety concerns.
For emergency assistance, public safety personnel can always be reached by calling 724-852-3303 (campus extension 23303).  If a campus-wide emergency situation arises, we're available to parents, community members, and students who want more information. Don't hesitate to reach out to the public safety office with questions or concerns.
Quick Reference: Emergency Telephone Numbers
| | |
| --- | --- |
| Waynesburg University Public Safety (24 Hours) | 724-852-3303 or ext. 23303 |
| Waynesburg University Switchboard (8:30 a.m.-4:30 p.m. M-F; Summer hours end at 4) | 724-627-8191 |
| Waynesburg Borough Police Department | 724-852-2911 or 724-627-8113 |
| Waynesburg Volunteer Fire Department | 724-627-5426 or 1-911 |
Students, be proactive. When you begin your journey here, take these steps:
Sign up for Emergency Alerts
Add Public Safety to your contacts
Download the STOPit app for anonymous reporting of crimes
Safety, Security, Emergencies, and Crisis Management
Security Operations and Emergency Management has a Director and Assistant Director who meet weekly with the Provost, and/or the Dept. of Public Safety, Facilities Operations, University Relations, Risk Management, Information Technology Services, and Senior Executive Staff to ensure that security plans, emergency response guidelines, and crisis management policies and safety protocols serve the University in the best way possible by protecting the campus community, the students, employees, visitors, events, and interests from all hazards and harm.  
Recent and on-going trainings for various University groups include:
Risk and Hazards Identification and Mitigation Training for staff and employees regarding all emerging threats or potential hazards to the University;

Title IX Training for all employees and all student athletes;

Collaborative "All Hands" Field Training Exercises in active shooter, HAZMAT and workplace violence, with law enforcement and first responders; and

Required ITS Cyber Security Training for all employees, and new multi-factor authentication for verified access to University email and systems.
Proactive Planning
Waynesburg University's Comprehensive Security Operations Plan and Emergency Response Guide is updated yearly. In addition, the University issues an Emergency Response Quick Reference Flip Chart Guide, which is distributed campus-wide.
The Department of Public Safety 
Waynesburg University has trained, professional, Act 120 or Act 235 certified Public Safety Officers with its Department of Public Safety. These uniformed officers are present on campus and at all on-campus events. 
While employed at Waynesburg University, Public Safety Officers receive continuing education in  C.P.R./First Aid, University Policies and Procedures, Emergency Procedures for coordination with maintenance, fire, police, and medical assistance. They also receive training on issues typical of university campuses. The Director of Public Safety supervises all public safety personnel and is available at any time, serving as the liaison between the University and the state and local police departments.
The Director of Public Safety works closely with the Waynesburg Borough Police Department and the Pennsylvania State Police Department. The Public Safety Office and personnel always cooperate with any state police agency and maintain an excellent working relationship with the Waynesburg Borough Police. If a situation requires assistance, local or state police may be called to campus.
General Security Procedures
Residence Hall Safety & Security
If you are faced with an emergency...
It is helpful to be proactive and familiar with the information below in the event you are faced with an emergent situation. Waynesburg University has resources and support in place for mental health emergencies and for any victim of sexual assault. 
Mental Health / Psychological Issues
Personal / Medical Emergencies
Suicide Threat / Self Harm
Cancellation and Closures
In the event of an emergency requiring the cancellation of classes or closure of the campus, alerts will be sent out via the Everbridge Emergency Alert System and will be posted on Waynesburg.edu as soon as possible.
Through a comprehensive approach beginning 48 hours ahead of predicted weather events, the University's Weather Team closely monitors impending storms and inclement weather and advises chief decision makers on closures and cancellations. The Team has representatives monitoring conditions on-campus and in the surrounding region and also utilizes a Weather Sentry app, which provides alerts regarding dangers including lightning, wind, storms, and severe heat, etc.