Corporate Volunteer Project Event
working together...to address food insecurity
Spring 2019 Corporate Volunteer Project Event
The Chevron Center for Corporate Social Responsibility at Waynesburg University hosted a large-scale, multiple-site volunteer project event Thursday, April 11, in celebration of National Volunteer Week. Projects were held throughout Greene and Washington counties in southwestern Pennsylvania. The event was strategically crafted to meet some of the initial needs of the partner agencies and their communities as identified by data collected through a micro course on food insecurity, recently sponsored by Carnegie Mellon University and Waynesburg University.
Partner Agencies:
Corner Cupboard Food Bank
Greater Washington County Food Bank
McGuffey High School
West Greene High School
Participating Members:
84 Lumber Company
Bowles Rice LLP
Chevron
Community Bank
CONSOL Energy
EQT Corporation
First Federal of Greene County
Mackin Engineering
Range Resources
Stanley Black & Decker
Steptoe & Johnson PLLC
TechnipFMC
Tenaris
Project Particpation and Impact
Projects at the food banks ranged from sorting and packing pantry orders to prepping the garden beds for planting season. At the Greater Washington County Food Bank, volunteers assisted with the construction of a new greenhouse and preparatory work for a new hydroponics area.
At the schools, volunteers worked alongside students in the construction community pantry boxes. Similar to the concept of a Free Little Library, completed pantry boxes will be strategically placed throughout the McGuffey and West Greene school district communities to help those in need have 24/7 access to food, hygiene items and cleaning products.
Aside from the volunteer projects, eight offices held pantry drives, collecting items such as boxed foods, condiments, breakfast foods, snacks, beverages, canned foods, hygiene products and cleaning products. The donated items were split among the four partner agencies.
Offices that participated included Bowles Bowles Rice LLP, First Federal of Greene County, Mackin Engineering, Stanley Black & Decker, Steptoe & Johnson PLLC, TechnipFMC, Tenaris and Waynesburg University.
Three companies – Bowles Rice LLP, Community Bank and Mackin Engineering – contributed $500 each, which helped the CSR Center present a $500 surprise donation to each partner organization.
Other organizations that provided financial assistance, discounted materials or donated equipment were 84 Lumber, Chevron, EQT Corporation, Stanley Black & Decker and the Center for Service Leadership at Waynesburg University.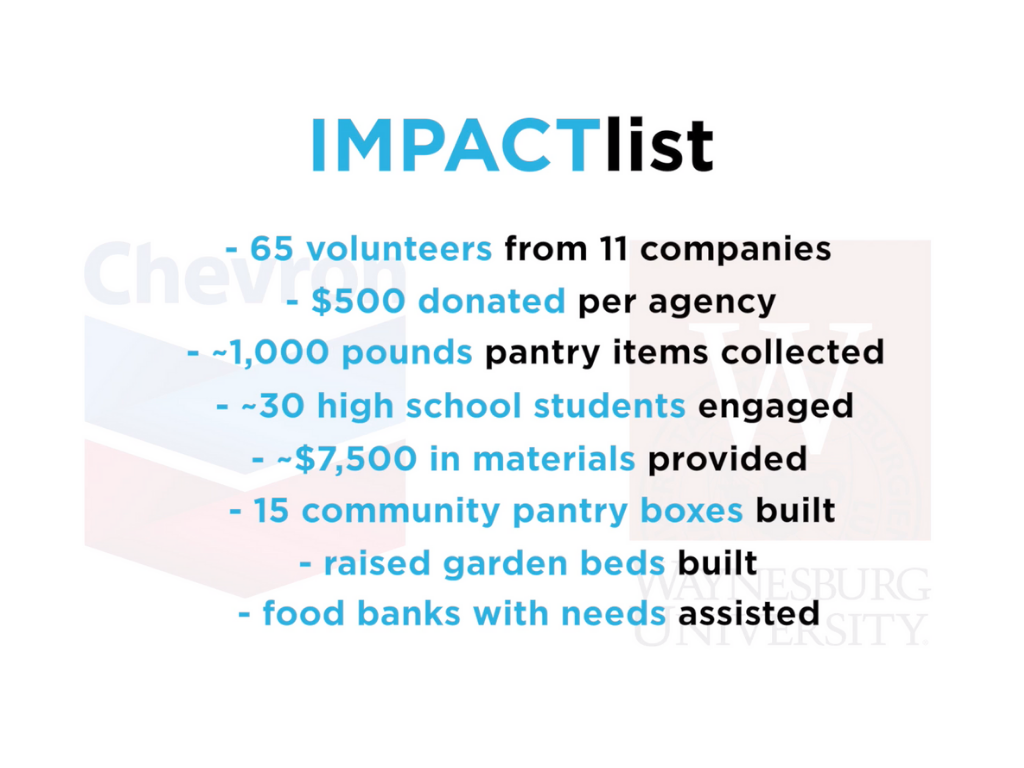 A Quick Glimpse
Select photos from various projects.
Learn more about the CSR Center
724-743-4422
csr@waynesburg.edu
6000 Town Center Blvd., Suite 100, Canonsburg, PA 15317