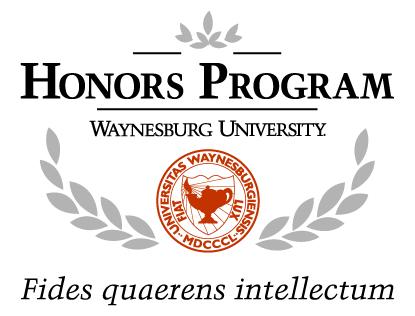 If you are interested in the Waynesburg University Honors Program, or if you have any questions, contact Dr. William Batchelder, the Program Director, at wbatchel@waynesburg.edu.
The Waynesburg University Honors Program is designed to create a culture of intellectual engagement. Through enhanced learning opportunities both in and out of the classroom, the program seeks to cultivate intellectual curiosity, encourage reflective and meditative engagement with significant texts, and develop critical thinking across the disciplines. The goal of the program is the development of engaged and thoughtful Christian leaders through the pursuit of a challenging liberal arts experience.
How does the program work?
Incoming students with a 3.5 GPA are encouraged to apply.
The program is a flexible, points-based system that allows students in every major to participate fully.
Honors students are required to earn 20 Honors Academic Points over four years; Honors Academic Points can be earned in many ways, including taking Honors classes, attending and presenting papers at conferences, and attending Honors Colloquia on campus.
Honors students are encouraged to share their gifts with the Waynesburg campus and the wider community by earning 10 Honors Experiential Points over four years; Honors Experiential Points can be earned in many ways, including service to campus clubs, peer tutoring, and mission trips.
How will the program challenge me?
Students who participate in the Waynesburg University Honors Program will have the opportunity to sign up for select Honors-only classes, including special topics courses.
Honors students have the opportunity to organize collaborative Honors projects.
This program will organize regular colloquia exclusively for Honors Students. At an Honors Colloquium you will have a chance to meet with experts to discuss fascinating topics from nanotechnology and scientific ethics to modern poetry and medieval politics.
The program sponsors lectures open to the whole campus, but will give Honors Students special access to our distinguished guests.
The program rewards extraordinary intellectual effort, such as presenting at conferences and applying to significant national and international scholarships.
What other benefits are there for participating in the program?
Honors students are entitled to early registration. As an Honors student, you will register for your courses two days before the rest of your class.
Students who successfully complete the program have this achievement recognized at Commencement, in their transcripts, and on their diplomas.
Active participation in the program will teach Honors students how to remain intellectually engaged lifelong learners.