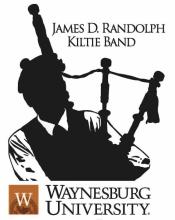 It is a common experience for students at Waynesburg University to hear bagpipes playing on and around campus. Thanks to people like the late James D. Randolph (Fuzzy), bagpipes have been a part of the Waynesburg University atmosphere for decades. The James D. Randolph Kiltie Band, named in "Fuzzy's" honor, strives to keep Scottish pipe and drum music alive on campus and in our community. Currently the band consists of WU students, faculty, alumni and even a few community members. The band is under the direction of Jeremy Olisar, lecturer of music and woodwind instructor, and assisted by Camilo Jauregui, percussion instructor.
Join the Kiltie Band
Weekly rehearsals are Monday evenings in Marsh Center, and the Kiltie Band is always looking for new bagpipers and drummers! Anyone can join regardless of any prior experience – all one needs is an interest in and commitment to learning to play this unique instrument! For more information, contact Jeremy Olisar at jolisar@waynesburg.edu. 
"My wife has Scottish heritage so I was interested in learning about the pipes. I never thought I would be able to play the bagpipes but wanted to try it. Now several years later I have the pleasure of playing along with the Kiltie Band." - Andrew Heisey