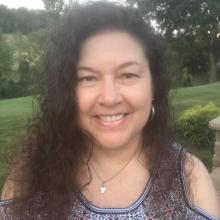 Our latest addition to our series of Alumni Council Q&As features Council Treasurer Jeanine Henry ('86). Jeanine earned her B.S. in Business Management (Accounting).
Q: What is your current job/title, and what is your current location? 
A: Currently I am Vice President of Indirect Lending and Collection Administration at Community Bank. My office is in Washington, PA.
Q: Can you describe your typical day?
A: I don't have a typical day as every day is different, but there is always interaction with people, both colleagues and clients. Banking is always evolving so it is important to stay on top of the latest developments and regulations.
Q: Can you describe your time at Waynesburg and how it shaped you as a person? 
A: Although I was local, I stayed on campus (best decision ever), and I was able to finish my degree in 3.5 years. The years I spent at WU were some of my best, due to the friends I made and the small campus atmosphere. I changed my major a year in but was very comfortable in speaking with advisors and professors in making this decision. 
Q: What is your favorite memory as a Waynesburg student? 
A: I don't have a singular memory rather my favorite memories revolve around the lifelong friendships I developed while there.
Q: Where has life taken you since graduating from Waynesburg University? 
A: I currently reside in Carmichaels, PA, and have worked for several companies in southwestern PA, currently Community Bank. I am active in several local nonprofits, serving in various capacities.
Q: Why is staying connected with your alma mater important to you? 
A: It is important to me because it is part of my community, and my years at WU and the friends I made help mold me into the person I am today.
Q: What does your role as an Alumni Council member and officer entail, and what motivates you to give back to the University in this way?
A: As a Council member and officer, I think of myself as an ambassador for the University, helping spread all of the good WU news. I have always participated in activities that speak to me and that enable me to give back in one way or another.
Q: What was your favorite class at Waynesburg, and why? 
A: My favorite classes were the religion classes I took. Raised Catholic, I always found other religions fascinating (and still do), thus strengthening my faith.
Q: What advice do you have for current students? For recent graduates? 
A: Take advantage of every opportunity that comes your way – it will help mold you in ways you never anticipated.