Our latest alumni Q&A features 2017 graduate Brenna (Ross) Pennington. While at Waynesburg, Brenna earned her B.S.B.A. in Forensic Accounting.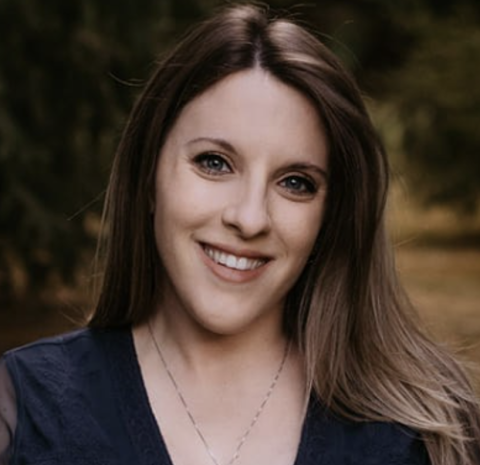 Q: Where do you work, and/or what is your position? What is your current location?
A: I work as a Senior Associate of Audit Services at Holsinger, P.C. CPA, a certified public accounting firm located in Wexford, PA. I have transitioned from Audit Associate to In-Charge Audit Associate to Senior Associate since I started in 2017. I currently reside in Freedom, PA.
Q: Can you describe a typical day at your job?
A: Currently, we are working in a flexible hybrid setting; we can work from home at our leisure, but we are required to go into the office at least two days per week. Typically, the day runs during normal business hours (8 a.m. to 5 p.m.), but there is flexibility depending on my schedule and client work. During busy season (January through April), we have a Fun Committee that provides catered lunch from local restaurants once per week. Throughout the rest of the year, we have planned lunches, gatherings, and other events. As I work in the audit department, we also perform on-site fieldwork for our clients; depending on the location of the client, we either travel to their office / site daily, or we are provided with overnight accommodations. Throughout the day, we are performing analytics, testwork, client inquiries, and report writing, and working as a team with the other engagement team members working on that client. We have multiple engagements going on at the same time, and we have weekly managerial meetings to discuss the upcoming schedule and jobs.
Q: Can you describe your time at Waynesburg and how it shaped you as a person?
A: I am extremely grateful for my time at Waynesburg. I grew up in smaller schools (private and public), church, and Bible camp in the summer, so I believed it would be a good fit for me. Once I visited the campus, professors, and other administrators, I knew it was where God meant for me to be. I love the feeling that people there truly make the time to know you and care about your life and professional development – you aren't just another face in a huge crowd of students. However, it wasn't so small that everybody knew everybody and everything. I felt that I was given so many opportunities to try new things, socialize, and expand my knowledge to prepare me for life after college. It showed me how to transition from "student" to "young professional" and apply everything taught and exemplified by my teachers and leaders in my life.
Q: What is your favorite memory as a Waynesburg student?
A: This is a hard one, as I have so many wonderful memories over the years, but I'll name a few that really hit home for me. As cliché as it sounds, that first weekend moving into Ray Hall and partaking in all the freshman activities was such a whirlwind and so exciting; every girl in Ray came together in the common room and talked for hours. Meeting and growing my relationships with people that have since become my best friends (and one, my current husband), and watching some of those friends also fall in love and now be married with kids, is such a blessing. I rode my first mechanical bull, saw my first broadway show, and went snowboarding for the first time because of Waynesburg. I worked with so many lovely ladies in the Business Office, where I got my first taste of real accounting work. I met my now-husband on the first day of honors composition class and got engaged on graduation day. I could go on!
Q: Where has life taken you since graduating from Waynesburg University?
A: I'm very blessed to say that I was offered and accepted my full-time audit associate position at Holsinger during spring semester of my junior year at WU, through the Pittsburgh Accounting Consortium. After graduating and getting engaged, I moved into an apartment in McCandless (North Hills) and started my job in the fall of 2017. In 2019, I studied for and passed my CPA exams, got married, and completed my remaining credit hours at CCAC to get my CPA license. In 2021, my husband and I purchased our first home in Freedom (Beaver County), right outside of Cranberry, and got our golden retriever, Bindi. Most recently, we had our first son, Logan, in November of 2022.
Q: Why is staying connected with your alma mater important to you?
A: Staying connected with my alma mater is important to me because WU truly has a piece of both mine and my husband's hearts. My days there were some of the most memorable and life-changing, quite literally, as I met my husband on the first day of class freshman year (as they say, "the rest is history"). I had so many opportunities to experience new things, join clubs, compete, tutor, counsel, and work. I met and further grew up with some of my closest friends. My husband and I got married at the chapel. I had professors and other individuals who made such an impact on me and still to this day make an effort to keep in touch with me. I have since had the chance to attend multiple career fairs, join the business department advisory board, and visit my ladies at the business office whenever I am there. It is a place that means so much to me, and I hope to continue the relationship for years to come.
Q: If you could deliver a message to your favorite professors at WU, what would you say?
A:
To James Tanda: You have made it clear that I can call you "friend" as well as "educator." You were always available for any questions I had or advice I needed, and I knew that you were willing to connect Evan and me with any opportunity in the professional field that you could. Thank you for your listening ear, your passed-on knowledge, your care, and a chuckle whenever I needed it.

To Adam Jack: I appreciate an instructor and an individual who is fair – someone who expects maturity and dedication to work – but is kind and caring about you as a person. I truly enjoyed taking the few extra classes I had with you and learning things a bit outside of my "accounting" wheelhouse. Thank you for always greeting me with a smile and a "how's it going," when you're probably the busiest person I know.

To Tony Bocchini, who is no longer at WU: I was intimidated from day one, because I knew you were "no nonsense," but you appreciated students that listened, applied, and gave a valuable effort. You vouched for me to receive the Business Office position in my freshman year, and I maintained that position all four years. You gave me teaching assistant and tutor opportunities, pushed me to get that CPA, and saw the best in me, when I didn't know it myself. Thank you for all you taught me, especially to walk into my CPA firm job in the morning with a hot coffee, because, "that's good stuff right there."
Q: What advice do you have for current students? For recent graduates?
A:
Current students: Do everything and anything offered to you during your time there. I promise that you will never get a free gym membership like you have right now. If you have room in your schedule, take that extra class and challenge yourself; learn something new, or something outside of your major that interests you. You may find that you're really good at, or really enjoy, something you didn't expect. Take notes. Take naps. Enjoy lunch with your closest friends. Eat the Charter Day chicken. Soak it all in and apply yourself – surprise yourself.

Recent graduates: Don't let these past few "virtual" years shape your view of the professional world. While there are hybrid options available and other changes present, it is crucial to maintain professionalism, the ability to hold a conversation, attend a meeting, and dress for the career you want. Go after the position you really want, but know that God will put you exactly where you need to be – whether it be there, or somewhere else.