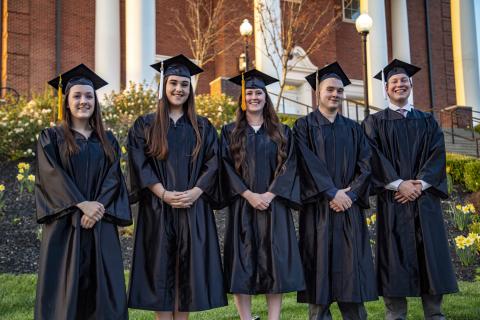 Waynesburg University honored the Class of 2021 during in-person commencement ceremonies on Saturday, May 1, and Sunday, May 2, on the Lawn of Miller Hall.
More than 400 undergraduate, graduate and doctoral students were honored. Four ceremonies were held over the two days in order to comply with state and federal guidelines.
Carly Breach, a math (secondary education) graduate from Madras, Oregon, was named one of five valedictorians. She is the daughter of Vernon and Kristine Breach.
"Being a valedictorian is a testament to the dedication and hard work that I have put into my academics here at Waynesburg," said Breach. "It wouldn't have been possible without the help and encouragement from countless family members, friends and colleagues."
During her time at Waynesburg, Breach participated in the Symphonic Band and Pep Band, and she was a student support specialist for the ITS Help Desk.
She was a member of Kappa Mu Epsilon Honor Society and received the Outstanding Senior Award for the Department of Mathematics, Computer Science and Physics.
"Throughout my time at Waynesburg University, the supportive community around me inspired me to grow in my faith, in my confidence and in my ability to help others," she added. "I've been challenged to be better, not only for myself, but for my future students as well."
Breach will continue her education this fall, pursuing a master's degree in applied mathematics at California University of Pennsylvania.
Valedictorians
The following students were also named valedictorians:
Bailey Holt, a history (secondary education) graduate from Smithfield, Pennsylvania
Joshua Miller, a forensic accounting graduate from Reedsville, West Virginia
Casidee Millero, a nursing graduate from Greensville, Pennsylvania
Aaron Sielski, a criminal justice administration graduate from Waynesburg, Pennsylvania
Miller, Millero and Sielski delivered the valedictory to the Class of 2021 at their respective ceremonies on Sunday.