Waynesburg University's Class of 2023 served throughout Greene County and in Morgantown, West Virginia, Saturday, Aug. 24, as part of New Student Orientation weekend.
University faculty, staff and Bonner Scholars accompanied the freshman class, serving alongside them at each site.
More than 480 volunteers participated in maintenance and outdoor cleanup work at sites such as the Corner Cupboard Food Bank, the Greene County Historical Society, the Bowlby Library and the Mission House, among others. One group traveled to the Ronald McDonald House in Morgantown to work on gardening, painting and pantry organization.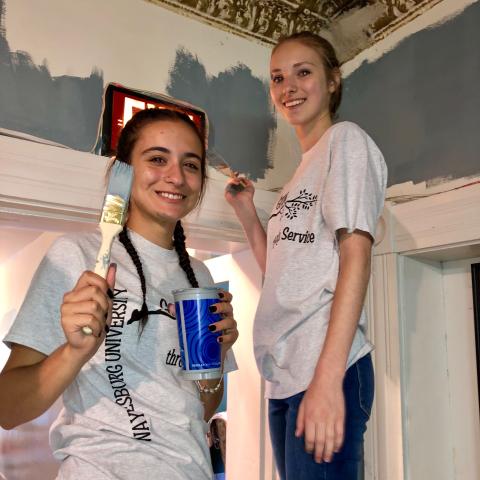 Morgan Sheehan-Hanula, a freshman criminal justice major from Brownsville, and Abby Powers, a freshman English major from South Park, worked together painting the interior of the Greene County Historical Society.
"Even though we're just painting, to others this is very important work," said Powers. "Through these service experiences, I also hope to grow closer to others."
Sheehan-Hanula was grateful for the opportunity to have an impact on the greater community.
"It's nice to give back to people and lend a helping hand," she said. "It's so meaningful for everyone to come together as one and make a difference."
Also at the historical society, Pennsylvania natives Ricky Pitzer, a freshman mathematics major, and Austin Maksin, a freshman athletic training major, had the unique job of power washing a 1916 locomotive that ran on the Waynesburg and Washington Railroad.
Other service included hosting games and fellowship with the residents of Rolling Meadows Nursing Home, processing donations at Blueprints and store organization for the City Mission's Hidden Treasure thrift store.
Waynesburg Bonner Scholars led each of the freshman groups, serving as mentors and conducting group reflections at the end of the service work.
This freshman class includes students from 15 different states, including Arizona, California and Texas. They moved in Thursday, Aug. 22.
Classes for all undergraduate students began today.