Part-time Waynesburg University nursing faculty member and alumna, Marian Longstreth, was nominated for the Platinum Level Nurse of the Year at WVU Medicine during the 2022 National Nurses Week, which began Friday, May 6.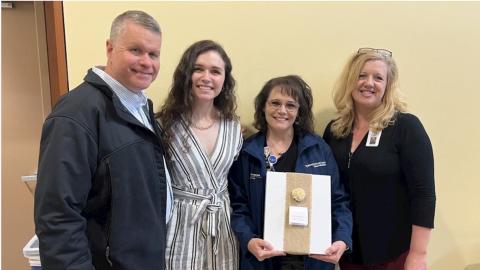 The Inpatient Platinum Nurse of the Year is given to a nurse who has provided excellence in nursing for over 20 years at WVU Medicine. With almost 31 years of experience as a nurse, Longstreth has served in various capacities from full-time nursing practice to leadership, education and research. Her current role is with stroke, trauma, arrest, transport (STAT) and the Rapid Response Team.
"The job I have as a STAT nurse is intense which includes responding to priority 1 traumas, cardiac arrests, strokes, and myocardial infarction pages," said Longstreth. "Additionally, when I serve as the Rapid Response Nurse, I respond, assist and recommend patients in potential declining status via the nurse page or system page through the hospital's Modified Early Warning System (MEWS)."
The Capstone Project educated new and current nurses in notifying the Rapid Response Team."
A current student in Waynesburg's Doctor of Nursing Practice (DNP) Program, the nomination of Longstreth by her peers at WVU Medicine was prompted by the work done in her DNP Capstone Project, which she began planning in December 2020 and implemented in 2021. The focus of Longstreth's Capstone Project, which involved over 900 new and current nurses and 19 units, centers around the application and knowledge of WVU Medicine's Rapid Response Team.
According to Longstreth, many nurses and staff are unsure and/or hesitant to call the Rapid Response Team. With properly timed responses, the Rapid Response Team can assist in higher levels of care for patients directly at the bedside. By implementing her Capstone Project, Longstreth focused on supporting nurses and interprofessional colleagues by minimizing hesitancy and boosting their knowledge and application of the Rapid Response Team.
"The Rapid Response Team (and nurse) assess the situation, collaborate with the interprofessional team, make recommendations and establish a plan for immediate intervention and/or transfer to a higher level of care within the hospital (such as an intensive care unit)," said Longstreth. "The Capstone Project educated new and current nurses in notifying the Rapid Response Team."
Longstreth has an extensive history in education at the University. In addition to her role as a part-time faculty member, she received her Bachelor of Science in Nursing (BSN) in 1991, her dual Master of Science in Nursing (MSN) and Master of Business Administration (MBA) in 2018, and is set to graduate with her DNP in August 2022.
Longstreth's husband, Steve Longstreth ('92), and daughter, Amanda Longstreth ('22), are also alumni of the University, and her son, Joseph Longstreth, is a current sophomore majoring in business administration with a focus in healthcare management.