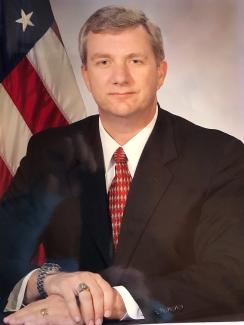 Waynesburg University will celebrate the 172nd anniversary of its charter by the Commonwealth of Pennsylvania with a special convocation at 11 a.m. Tuesday, March 22, in Roberts Chapel.
Mark Clookie, Sr., formerly director of the U.S. Naval Criminal Investigative Service (NCIS), will deliver the convocation address. Titled "Trust the Detours," his address will reflect on Proverbs 16:9.
With more than 38 years of criminal investigative, counterterrorism, counterintelligence and executive protection experience, Clookie has an extensive background in global security and law enforcement.
Following graduation from the University of Maryland, Clookie attended the Baltimore City Police Academy and served for two years as a police officer in Annapolis, Maryland.
In 1980, Clookie became a civilian Special Agent of NCIS, serving in many leadership positions around the world, including multiple assignments in the Middle East and Far East. During his 31 years at NCIS, he rose through the ranks of the agency, leading investigations and operations involving all categories of felony crimes as well as missions to counter terrorism, espionage, piracy, narcotics and weapons smuggling. 
In 2010, Clookie was appointed as the Director of NCIS, leading an agency of more than 2,500 personnel working from 175 offices throughout the U.S. and 60 foreign countries, and managing an annual budget of $630 million. He retired from federal service in 2013.
After leaving NCIS, Clookie joined the International Justice Mission, a non-government organization (NGO) focused on combating human trafficking, slavery and the sexual exploitation of children, as their Vice President for Investigations and Law Enforcement Development. In 2017, Clookie left the International Justice Mission to consult with several NGOs engaged in combating slavery and the trafficking of humans. 
In October of 2020, Clookie and a former colleague formed Prevention Now, a not-for-profit organization focused on preventing human trafficking within the United States. 
Clookie currently serves as the Assistant Chief of a volunteer fire company and as an Emergency Medical Technician for his county of residence, as well as on a rural rescue squad.
About Waynesburg University
Consistently ranked a best value school, Waynesburg University's Strategy for the 21st Century affirms its commitment to developing an entrepreneurial mindset and ethical leadership skills for all students. Rooted in its mission of faith, learning and service, the private, Christian university is located on a traditional campus in the hills of southwestern Pennsylvania, with an additional site for graduate and professional programs in Southpointe.
# # #