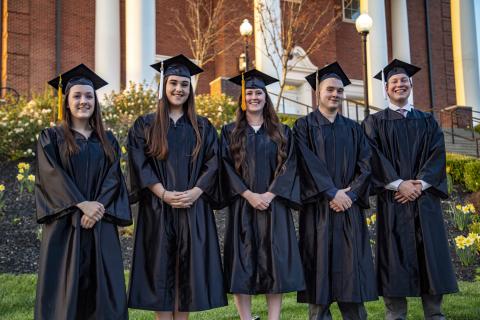 Waynesburg University honored the Class of 2021 during in-person commencement ceremonies on Saturday, May 1, and Sunday, May 2, on the Lawn of Miller Hall.
More than 400 undergraduate, graduate and doctoral students were honored. Four ceremonies were held over the two days in order to comply with state and federal guidelines.
Bailey Holt, a history (secondary education) graduate from Smithfield, Pennsylvania, was named one of five valedictorians. She is the daughter of Amy and the late Jim Holt.
Holt credits being named valedictorian to discipline and she is confident that her skills and knowledge will help to build a better world.
"It is not that I am a genius or have a photographic memory," she said. "It means that I have set a goal and put in the work to achieve that goal."
She was a recipient of the A.B. Miller Scholarship and was named to the Dean's List for all eight semesters at Waynesburg.
During her undergraduate education, Holt completed certification to become a Certified Google Educator and published an Inquiry Design Model in the Teaching with Primary Sources Eastern Region, which is a partner with the Library of Congress.
"I have grown confident, independent and passionate, and I credit this all to the Waynesburg University Education Department and Dr. Solomon," added Holt. "Dr. Solomon has become and continues to be my mentor professionally and spiritually."
Her future plans are to be a high school teacher. She will start immediately as a day-to-day substitute.
Valedictorians
The following students were also named valedictorians:
Carly Breach, a math (secondary education) graduate from Madras, Oregon
Josh Miller, a forensic accounting graduate from Reedsville, West Virginia
Casidee Millero, a nursing graduate from Greensville, Pennsylvania
Aaron Sielski, a criminal justice administration graduate from Waynesburg, Pennsylvania
Miller, Millero and Sielski delivered the valedictory to the Class of 2021 at their respective ceremonies on Sunday.