Standing 6-foot-5 and weighing 220 pounds with broad shoulders and a calm, business-like demeanor on the mound, Mason Miller certainly looks the part of one of the top pitching prospects in Major League Baseball. According to the official MLB website, Miller is the number 98 overall prospect in both the American and National leagues. He is also the 27th-ranked pitching prospect and ranks number two in the Oakland Athletics organization.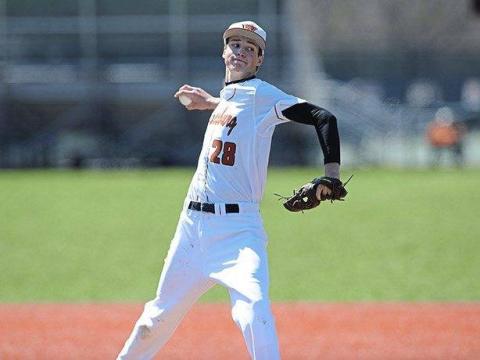 With his fastball regularly eclipsing the 100 mile per hour mark, a devastating slider and a burgeoning changeup, few would believe the unbelievable details of the future star's journey to the Big Leagues. Four crucial years of that journey were spent at Waynesburg University, making him one of the very few to go from the NCAA Division III ranks to the starting rotation of a Major League club.
The turning point in Miller's Yellow Jacket career came in the summer of 2018, when the then-155-pound righty took a drug test for a summer internship. The results revealed that he was dealing with Type 1 diabetes, which was the cause of his inability to put on quality weight, despite sticking to a strict diet and exercise plan. After beginning treatment for the condition, Miller truly flourished.
Following his diagnosis, Miller transformed himself from a solid contributor for the Jackets to an overpowering ace that dominated the Presidents' Athletic Conference (PAC) as a junior in 2019. That year, he ended the season as the conference leader in ERA (1.86), strikeouts (97) and opposing batting average (.173).
His 2020 campaign got off to a similar start as he not only won both of his starts in the COVID-shortened season, but did so with two complete-game performances. Over those 14 innings, the Bethel Park, Pennsylvania, native racked up 24 strikeouts and opposing hitters managed a meager .160 batting average.
Tyler Godwin ('19) is just one of dozens of Miller's former teammates who speak about him in glowing terms, and it isn't just for his abilities on the mound.
"The first time I watched him pitch after coming back, I remember telling one of my teammates 'He's the best pitcher in our conference, and it's not even close.' He was sitting in the low 90's and his off-speed pitches were some of the best I had ever faced," Godwin said. "What always stood out to me about Mason, aside from the electric pitch arsenal, was that he always had that mental edge that helps set pitchers apart. He was a leader on and off the field and was an integral part of that postseason run we had back in 2019. When he was on the mound, we felt pretty confident that we were going to win that game."
A combination of his impeccable numbers, ever-improving arsenal of pitches and outstanding work in the classroom – he graduated with a 3.93 GPA in Finance – allowed Miller his pick of several highly successful Division I programs that wanted him as a graduate transfer. He ultimately landed at Gardner-Webb, where he immediately took over as the ace of the Runnin' Bulldogs.
Miller proved he could play with the best of the best in the college ranks by posting an 8-1 record with a 3.31 ERA and a Big South Conference-best 121 strikeouts. He was honored as a first-team all-conference selection and caught the attention of Major League scouts. When the 2021 MLB Draft got underway on July 11, 2021, Miller didn't have to wait long to take another giant leap in his baseball journey.
When Oakland saw Miller still available in the third round, it happily snatched him up and made him a part of the organization. Just getting picked so highly would have been a great ending to Miller's story. However, few could have forecasted just how quickly he'd ascend through the organization's farm system.
Less than three years after hearing his named called, Miller was in an Athletics uniform and toeing the rubber at the Oakland Coliseum. Facing the Chicago Cubs, he put his strikeout arsenal on full display by ringing up five opposing hitters and allowing just two runs over 4.1 innings of work. However, that 81-pitch debut paled in comparison to what Miller did against the Seattle Mariners on Tuesday, May 2.
With his former pitching coach and current Waynesburg head coach Perry Cunningham in the crowd to watch his former pupil, Miller logged seven no-hit innings with six strikeouts, before being pulled after throwing his 100th pitch of the outing. Though the A's lost the game resulting in a no-decision, Miller showed at a very young age just what he could do against the best players in the world.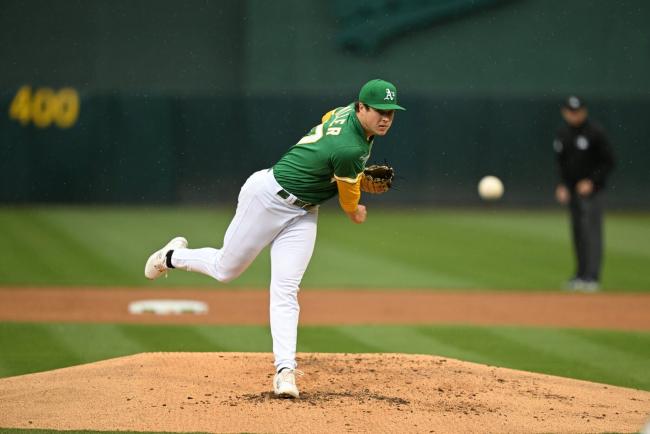 "To watch one of our former players starting a Major League game and being in Oakland for that Seattle game was surreal," Cunningham said. "The calmness of his demeanor showed me the trust and confidence he had in his preparation, which wasn't surprising. But the coolest part of the entire experience was sitting down with him for about two hours over brunch on Wednesday morning (the day after his start) and catching up. It was easy to realize that he is the same down-to-earth kid as he was during his four years here and that his success hasn't changed him."
Recently, Miller was diagnosed with a mild UCL sprain in his right elbow that has landed him on the 15-day disabled list. While he will likely be out longer than those 15 days, Oakland has expressed little to no concern for his long-term health and Miller remains a part of the franchise's plans for the future. Prior to that move, he was sporting a 3.38 ERA over 21 1/3 innings of work with 22 strikeouts.
At just 24 years of age, Miller continues to not only exceed expectations, but do it at a shockingly fast pace. Though he currently sports the green and gold of the Oakland Athletics, he will always be remembered by many for his days in orange and black.
"I'm extremely excited to continue following his journey now that he's made it all the way to the majors. I always felt like this was his ceiling and upside, and to see it come to fruition is truly amazing," Godwin said. "I'm proud to have called him a teammate for three years and I'm looking forward to hopefully a long career of success at the highest level."