In December of 2019, I chose to apply to the Washington Center to study in Washington, D.C. for the upcoming summer. The Washington Center provides its accepted students with the opportunity to apply for summer internships, take classes and interact with others in their field of study.  It is a competitive process, as the application entailed writing a 500-word reflection on an ongoing current event in your field of study; a 100-word reflection on your personal interest; two letters of recommendation; a resume and cover letter; and a G.P.A of 3.0 or better.
I chose to do their "Academic Internship Program" (AIP), which offers 12 college credits. It involves applying and accepting a summer internship, passing a night class in your major, and attending TWC's LEAD Program. Waynesburg University provides six credits for the internship, three credits for LEAD and three credits for the evening class. I chose Crisis Communications for my evening class. I thought that taking a class that our University doesn't offer could secure me yet another advantage when seeking a job after graduation, especially since crisis communication has become important with all that is happening in the field of criminal justice.
Waynesburg requires an internship during undergrad in most majors. I had already fulfilled that requirement with a summer internship as a security patrolman at Coney Island Amusement Park in Cincinnati, Ohio; however, I wanted to add another to my resume to give me the edge when it comes to applying for jobs after graduation.
I was talking to my advisor and he said to look at The Washington Center. The Washington Center (TWC) was a new program offered on our campus. Nobody knew a lot about it. I was the first Waynesburg University student to be accepted to attend the Academic Internship Program.
---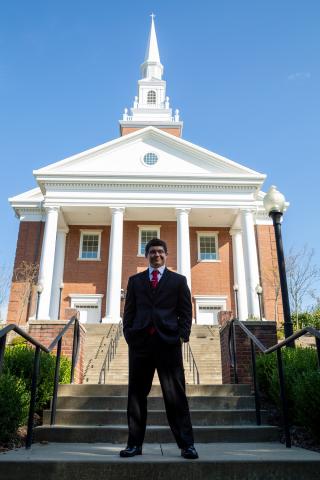 "As being an intern for the United States Marshals Service, Criminal Intelligence Branch, it has given me the opportunity to grow and make countless memories, learn new technologies and skills to enhance my understanding of law enforcement and the time to network with many professionals within the federal government. This experience was very humbling and it was an honor to be an intern for America's oldest Federal Law Enforcement Agency and work with agents on a daily basis."
-Nicholas B. Midei
---
This past summer I interned with the United States Marshals Service in Washington, D.C. as data analyst with the Criminal Intelligence Branch of the Investigative Operations Division at Marshals Headquarters. During my time at the Marshals Service, I was granted government clearance that allowed me to research and collect fugitive information, analyze cases, and attend joint meetings within the Department of Justice.
I was able to watch actual arrests of persons I was investigating, was introduced to high ranking officials at the U.S. Marshals Service and Department of Justice and learned how federal law enforcement operates to keep this country safe.
With graduation coming this spring, I have received job opportunities with the United States Capitol Police Department, the U.S. Marshals Service and the Arlington County Police Department. As I prepare for my last semesters at Waynesburg University, I have enrolled and am taking classes in the Master of Arts in Criminal Investigations here at Waynesburg University.