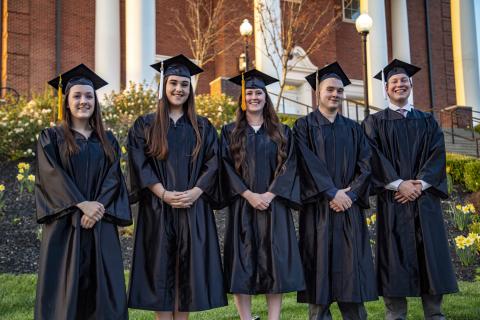 Waynesburg University honored the Class of 2021 during in-person commencement ceremonies on Saturday, May 1, and Sunday, May 2, on the Lawn of Miller Hall.
More than 400 undergraduate, graduate and doctoral students were honored. Four ceremonies were held over the two days in order to comply with state and federal guidelines.
Joshua Miller, a forensic accounting graduate from Reedsville, West Virginia, was named one of five valedictorians. He is the son of Bryan and Yvonne Miller.
"Being a valedictorian is the humble blessing that God has given me so many abilities but also a challenge to use those skills and life lessons to serve others for His Glory," said Miller.
Miller was a member of the Business Club, having served as treasurer and, most recently, as president, and was a member of the business honor society, Sigma Beta Delta.
This spring, he received the Pennsylvania Institute of Certified Public Accountants Outstanding Senior Award.
"Waynesburg University allowed me to find community," he shared. "I have had so many opportunities to grow through my work at the Business Office as well as my local service in the Waynesburg community, and I am incredibly blessed."
Miller has been offered a position with PNC to work as a detection and investigation associate in Pittsburgh.
Valedictorians
The following students were also named valedictorians:
Carly Breach, a math (secondary education) graduate from Madras, Oregon
Bailey Holt, a history (secondary education) graduate from Smithfield, Pennsylvania
Casidee Millero, a nursing graduate from Greensville, Pennsylvania
Aaron Sielski, a criminal justice administration graduate from Waynesburg, Pennsylvania
Miller, Millero and Sielski delivered the valedictory to the Class of 2021 at their respective ceremonies on Sunday.