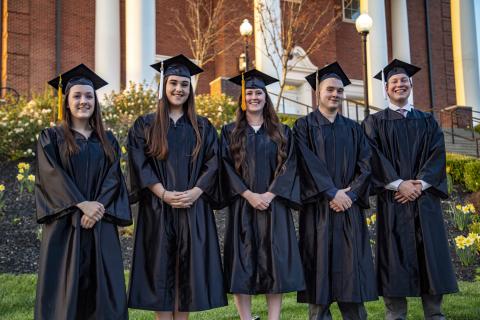 Waynesburg University honored the Class of 2021 during in-person commencement ceremonies on Saturday, May 1, and Sunday, May 2, on the Lawn of Miller Hall.
More than 400 undergraduate, graduate and doctoral students were honored. Four ceremonies were held over the two days in order to comply with state and federal guidelines.
Casidee Millero, a nursing graduate from Greensville, Pennsylvania, was named one of five valedictorians. She is the daughter of Brigitte Millero and the late Michael Millero.
"I am very honored to be named valedictorian," shared Millero. "Although it was never something I strived for, I [simply] wanted to learn how to become the best nurse that I could possibly be. It just so happened to pay off in this aspect, as well."
Millero was a member of Sigma Theta Tau, the national honor society for nursing, and a member of Waynesburg's cheerleading team, serving most recently as captain.
She received the Outstanding Woman Leader Award and graduated summa cum laude.
"Throughout the last four years, my faith has blossomed and grown," Millero added. "Not only have I learned how to care for and save people's lives, but I have also found a savior myself."
Millero has secured a job as a critical care nurse at Washington Health System's Washington Hospital.
Valedictorians
The following students were also named valedictorians:
Carly Breach, a math (secondary education) graduate from Madras, Oregon
Bailey Holt, a history (secondary education) graduate from Smithfield, Pennsylvania
Joshua Miller, a forensic accounting graduate from Reedsville, West Virginia
Aaron Sielski, a criminal justice administration graduate from Waynesburg, Pennsylvania
Miller, Millero and Sielski delivered the valedictory to the Class of 2021 at their respective ceremonies on Sunday.