After successfully completing a summer study abroad term in Salamanca, Spain, senior education major Tyler Funk has been selected as an ISA/TEAN Global Ambassador.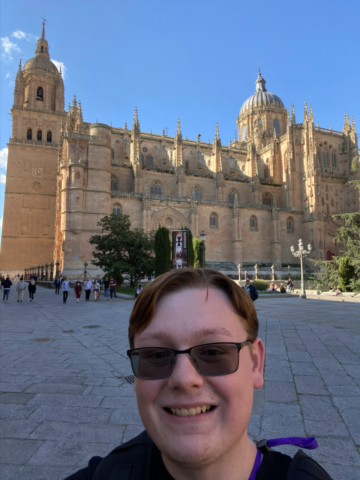 As a Global Ambassador for this program, Funk will have the opportunity to share his study abroad experience with students at Waynesburg University and throughout the region.
In addition to discussing his own experience, Funk will: 
Promote ISA/TEAN, as well as other divisions including Service-Learning, Veritas, Internships, and EuroScholars;
Launch relevant study abroad initiatives on campus and in the community;
Serve as a peer point of contact for students who are interested in studying abroad at Waynesburg University.
As a senior education major, Funk hopes to integrate his role as a Global Ambassador with his student teaching experience in the fall semester. 
ISA by Worldstrides has been an official study abroad partner of Waynesburg University since 2018.
Click here for more information about ISA Study Abroad Opportunities
Click here to learn more about Study Abroad at Waynesburg University