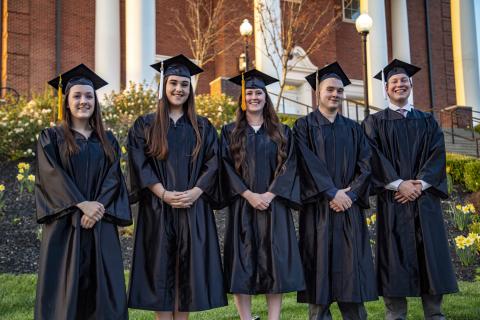 Waynesburg University honored the Class of 2021 during in-person commencement ceremonies on Saturday, May 1, and Sunday, May 2, on the Lawn of Miller Hall.
More than 400 undergraduate, graduate and doctoral students were honored. Four ceremonies were held over the two days in order to comply with state and federal guidelines.
Aaron Sielski, a criminal justice administration graduate from Waynesburg, Pennsylvania, was named one of five valedictorians. He is the son of Paul and Mary Sielski.
"Being selected as one of the valedictorians is such a huge honor," Sielski shared. "It means that all of my hard work [came] to fruition, but more importantly than that, it means I get to be one of the people to represent the culture of hard work and perseverance that Waynesburg University instills in all of its students."
At Waynesburg, Sielski was a member of the Criminal Justice Club, Newman Club, History Club and WU's Line Improv Comedy Group. He was also a student worker in Eberly Library.
He was named to the Dean's List each semester he was enrolled at Waynesburg and graduated summa cum laude. He was a recipient of the Louise and Eleazar Luse Denny Memorial Scholarship and the A.B. Miller Scholarship. Sielski was also named a Bausch and Lomb Science Student of the Year.
"I've been able to mature and grow in my communication skills, leadership skills, organization skills, faith and so much more," added Sielski. "I have adopted an attitude of perseverance while at Waynesburg University, and I will take that attitude with me for the rest of my life."
Sielski will continue at Waynesburg University in the Master of Arts in Criminal Investigation Program. His future plans include working for a federal agency and teaching criminal justice at the university level.
Valedictorians
The following students were also named valedictorians:
Carly Breach, a math (secondary education) graduate from Madras, Oregon
Bailey Holt, a history (secondary education) graduate from Smithfield, Pennsylvania
Joshua Miller, a forensic accounting graduate from Reedsville, West Virginia
Casidee Millero, a nursing graduate from Greensville, Pennsylvania
Miller, Millero and Sielski delivered the valedictory to the Class of 2021 at their respective ceremonies on Sunday.