Image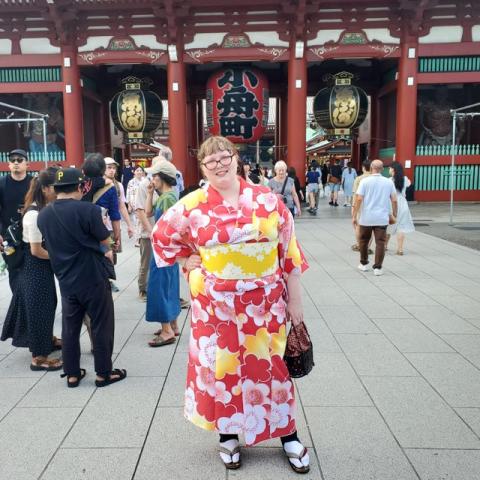 Studying abroad in a country with a completely different culture can be an overwhelming but life-changing experience. I can easily say that at different times during my month in Japan, these feelings were felt. However, for most of the time I spent in the country, I had many new experiences that made me fall in love with Japan's culture, people, and country. My study abroad in Japan lasted a month with the first two weeks studying at J.F Oberlin University as part of The Education Abroad Network's (TEAN) summer Japan session. The rest of the month was spent sightseeing around the country. Within that short period of time, I did so many new activities that it is not possible to cover them all in this blog post. However, I will share some of the memorable portions of my trip.
Most days during the first two weeks were spent at the Shinjuku campus of J.F. Oberlin. In my Japanese Culture and Anime class I was able to learn about the ever-evolving art of anime and manga as well as Japan's video game market and many different music scenes through an instructor who lived close to Japan during the 80s and 90s. This gave a special perspective because the instructor actually lived through and followed many of the cultural trends and the airing of the classics of anime. While being on campus, I was also inspired by the motivation and driven nature of the native Japanese students taking classes in the same building. They are very devoted students and were exceedingly kind and welcoming to the study abroad students.
Image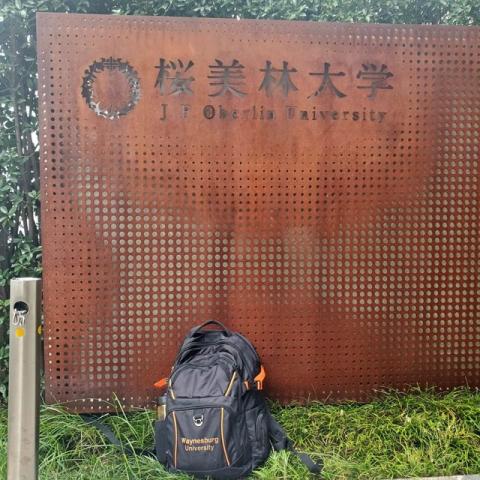 The time outside of classes was spent on many different adventures from exploring different parts of Tokyo with the other TEAN student of whom many I consider very good friends or going on my own to different places such as cat cafes, arcades, or train stations. Japan specifically Tokyo has a massive train and subway network. Understanding and using this network is essential to getting around the city. However, I also found that exploring the many different train stations can be a source of fun and interest. Around 1931, the major train or eki companies started putting eki stamps in the stations to encourage tourism within the country. These are small stamps that can be collected which feature the defining feature of the area the station is placed. Many nights, I would get off the different train lines at several different stops to collect the eki stamps and learn more about different areas of Tokyo. For example, Otsuka, the area in which I stayed had a roses eki stamp due to the town being known for its roses road that grows along the local tram tracks. Collecting eki stamps allowed me to explore and learn Japanese culture in an enjoyable and collectible way.
When traveling to Japan, there are many things that are traditionally to be done when studying abroad. Kimono wearing is one of these activities that was arranged by J.F. Oberlin and my study abroad program TEAN. It was a very different experience and I was able to wear a traditional Japanese kimono to Sensoji Temple, one of the biggest in Tokyo. It is fascinating to me how, unlike the Western clothes of yesterday, many Japanese still wear kimonos and yukatas. Especially when taking trips to temples it was very common to see Japanese of all generations in traditional clothing. While this experience was something that took me out of my comfort zone, I'm very glad that I experienced wearing a kimono while being surrounded by the beauty and grandeur of the traditional Buddhist temple.
Image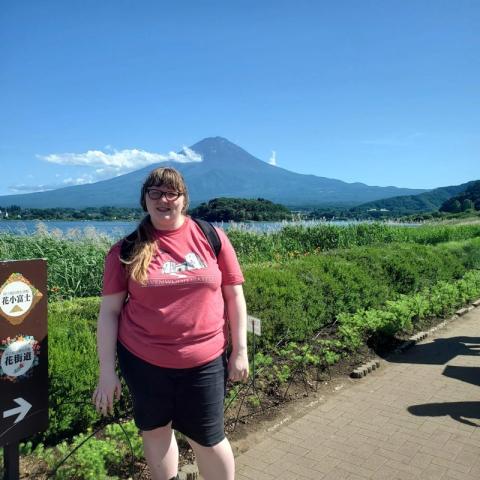 Due to my weekends being free during the first two weeks, I was able to experience one of my favorite parts of my study abroad. Being only 2 and a half hours away from Tokyo I traveled to Mount Fuji. Although it is a very famous landmark in Japan, I wasn't expecting much because it is just a big volcano.
Image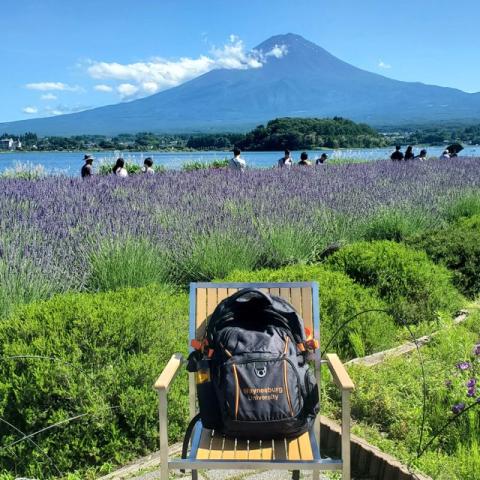 However, I was quickly proven different as the area around Mt Fuji and the size of the volcano itself is breathtaking. Due to not having erupted in years, the landscape and town around it has been able to flourish creating a wonderful atmosphere. I thoroughly enjoyed my day there and agree with its status as one of the most beautiful sights in the country
Being in Japan was an incredible experience and the only thing I regret is not having more time in the country. If anyone ever has the opportunity to go to Japan, it is a wonderful country to travel in and I'm so glad to say I was able to be there as long as I was this summer. I look forward to going back to Japan at another time in my life.
Learn more about Waynesburg University's Study Abroad program