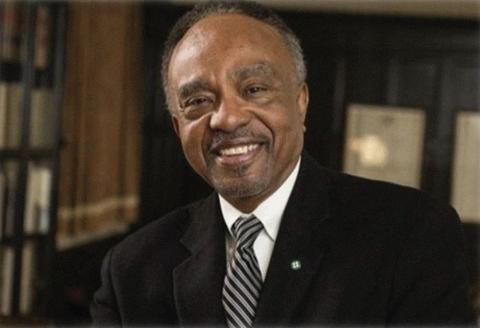 The Rosetta Kormuth DeVito Lecture Series at Waynesburg University will host Clifton Taulbert Wednesday, Nov. 13. The lecture will be held at 7 p.m. in Roberts Chapel on the University's main campus in Waynesburg. There is no cost for admission, and the public is cordially invited to attend.
Taulbert's lecture, "The Ice Man – An International Game Changer," will provide an up-close examination of successful entrepreneurship and will share his "eight habits of the heart," as discussed in his book, "Who Owns the Ice House?"
Throughout his career, Taulbert has been an entrepreneur – recognized by Time Magazine, a Pulitzer Prize nominee, an international lecturer and a CEO of two companies.
In addition to "Who Owns the Ice House?," he has authored thirteen other books, including "Eight Habits of the Heart" and "Once Upon a Time When We Were Colored," which was as a gift by the United States government for Nelson Mandela upon his release from prison in 1990.
Currently, Taulbert is the director of the Central Bank of Oklahoma, president and CEO of Roots Java Coffee and CEO of The Freemount Corporation. Previously, he helped to launch the StairMaster exercise system in the 1980s.
In 2014, he was chosen to join the 50th anniversary celebration of the signing of the Civil Rights Act of 1964; and in 2018, he was invited to speak at the Fulbright Scholars Innovation Conference at the University of Utah.
Taulbert has received the NAACP Image Award for Literature and the Diplomat Award from Global Ties U.S.
He is a trustee for the Tulsa Library Trust, the Oklahoma Foundation for Academic Excellence and the Tulsa Historical Society, and he serves on the boards of the Eudora Welty Advisory Board, the Anne Kathryn Sickle Cell Fund and the Indian Nation Council of Boy Scouts.
Taulbert is a graduate of the Southwest Graduate School of Banking at Southern Methodist University.
He resides in Tulsa, Oklahoma, with his wife, Barbara. Together, they have one son, Marshall, who is a film and fashion entrepreneur in Los Angeles, California.
The Rosetta Kormuth DeVito Lecture Series is funded by the DeVito family, and its purpose is devoted to lectures in the fields of business, the arts, and culture. Within these areas, the lectures focus on current topics of interest to graduate and undergraduate students at Waynesburg University.
For more information, contact Genna Steele, academic projects and grants coordinator, at 724-852-7660.