Waynesburg University celebrated the 173rd anniversary of its charter by the Commonwealth of Pennsylvania Tuesday, March 21, with a special convocation in Roberts Chapel.
Image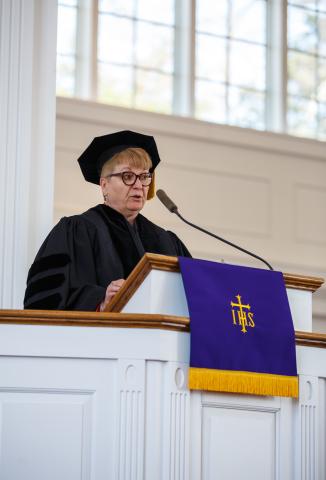 Pam Snyder, recently retired from the Pennsylvania House of Representatives, delivered the convocation address.
During her speech, she shared highlights of her career that have intersected with Waynesburg University, many of which have led to opportunities for growth, transformation and access for the University and its students.
"The one thing I recognized early in my first term [as County Commissioner] was the value of this institution to this community," she shared. "This University is truly the crown jewel of this community."
Working alongside then-President Timothy Thyreen, Snyder recalled securing funding for the streetscapes of Main Street and College Street and the creation of a Greene County student scholarship fund.
Later, as a state representative, Snyder was instrumental in procuring substantial grant dollars for the people and organizations in her legislative district.
She also successfully led the effort to sign the Pennsylvania Broadband Development Authority into law.
"It was truly a proud moment and one that definitely shapes the future of education for not only the University but for every student across the state who deserves access to resources needed to learn in today's world," she remarked.
Snyder emphasized how faith has been an integral component of her public service, referencing the message of Matthew 5:38-48.
"I believe [Jesus] meant to choose peace over conflict, to choose love over hate. To lift each other up instead of tearing each other down," she shared. "That is how I have always tried to live my life of public service."
Snyder's concluding thoughts urged students, faculty and staff alike to "always remember the power of your words and the ability you have to help others rise above and be the best they can be."
Snyder has served at the local, state and federal levels of government. Her roles have evolved from serving as an office clerk in the Greene County Sheriff's office, to Deputy District Director for Congressman Frank Mascara, to her own service as Greene County Commissioner and Pennsylvania State Representative.
In 2022, she was appointed by Governor Wolf as the new chair of the Pennsylvania Broadband Authority, and more recently, served on the Transition Team Leadership Board for Governor Josh Shapiro and Lieutenant Governor Austin Davis.
Last month, Snyder joined Buchanan Ingersoll & Rooney PC, a national law firm with experience in the energy, finance, healthcare and life sciences industries, as a senior advisor in government relations.
She lives on her family farm with her husband, Jack. They have two daughters and four grandchildren, with a fifth expected later this year.
---
During the convocation, three faculty members received the University's 2023 Lucas-Hathaway Teaching Excellence Awards. Provost Dr. Dana Cook Baer presented the teaching excellence awards to Doug Wilson, lecturer of communication; Dr. Tracy Dohn Cummins, assistant professor of biology; and Dr. Brad Davis, associate professor of chemistry.
Additionally, Waynesburg University President Douglas G. Lee conferred upon Dr. Paul Sielski the title of professor emeritus of mathematics.
Dr. Sielski retired in 2022 after teaching at Waynesburg for more than 30 years in the Department of Mathematics, Computer Science & Physics.
Throughout his years, he served as department chair, an NCAA representative and advisor to the Newman Club. He also participated in various faculty committees, including holding the position of chair of the Academic Standing Committee.
"Your reputation for teaching with passion and genuinely caring about the success of your students will continue to live on," President Lee read from the award citation. "You leave lasting impressions on your colleagues, who value your thoughtfulness, leadership, wisdom, and compassion. Today, the Waynesburg University community reflects on your impactful career and applauds you for your commitment to fulfilling Waynesburg's mission so devotedly."