Waynesburg University resumed its annual President's Donor and Scholarship Recognition Dinner after a two-year hiatus due to the COVID-19 pandemic. The dinner event was held Saturday, April 9.
"We are proud to honor our great alumni and friends, and we appreciate their generous support of our institution and its mission," said Stacey Brodak, vice president for Institutional Advancement and University Relations. "The most rewarding aspect of this event is for our donors to meet and spend time with the actual students who are benefiting from their financial support."
Presented at the dinner were the recipients of the 2022 Golden Key, Distinguished Alumni and Young Alumni Leadership awards.
Mr. William and Mrs. Mary Porter received the 2022 Golden Key Award, Mr. Larry Marshall received the 2022 Distinguished Alumni Award and Mrs. Haley Hinds Axelbank received the 2022 Young Alumni Leadership Award.
"Equally exciting at the dinner is the opportunity to celebrate our awardees, and this year's recipients are excellent standard-bearers of our mission of faith, learning and service," added Brodak.
Golden Key Award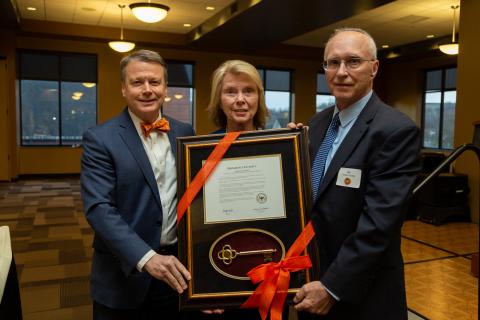 The Golden Key Award is presented by Waynesburg University to alumni or friends of the University dedicated to a lifetime of significant leadership and involvement with the University.
This year's recipients, Mr. William and Mrs. Mary Porter, were recognized for being selfless donors, loyal advocates and faithful friends. They sponsor the Ralph "Jake" Porter Memorial Scholarship Fund for students interested in pursuing education and the Margaret "Peg" Porter Endowed Scholarship Fund for young women from Greene County interested in pursuing business.
A portion of their citation read, "Your collective passion for the preservation of history and heartfelt service to community youth organizations is a model to our students so that they, like you, can act in meaningful ways to make a difference in the lives of others."
William spent his entire career working for Consolidation Coal Company, rising to the level of vice president of operations, while Mary served as a librarian for the International Department of U.S. Steel and as a medical secretary at West Virginia University (now WVU Medicine).
Distinguished Alumni Award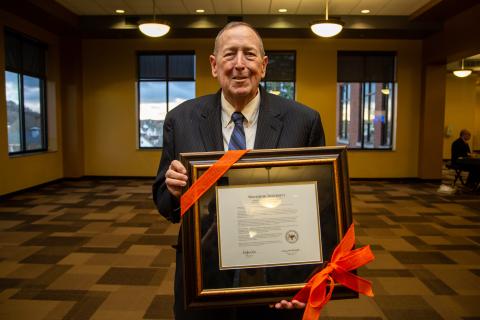 The Distinguished Alumni Award is presented to Waynesburg alumni for their unwavering devotion to the University's mission.
Mr. Larry Marshall, special assistant to the president for community relations at Waynesburg University, was recognized this year for his continued devotion to the University as well as the greater Waynesburg community and for the ways in which he exemplifies the mission of Waynesburg University.
Marshall has served in key leadership roles within various community organizations over the years, including the Greene County Fair, the Waynesburg-Franklin Township Volunteer Fire Department, Waynesburg Prosperous and Beautiful and the Waynesburg Borough Council.
These service roles, along with his positions at Waynesburg University, have allowed him "to be an exemplary role model for service, making a profound difference in the lives of Greene County residents," as stated in his award citation.
Young Alumni leadership Award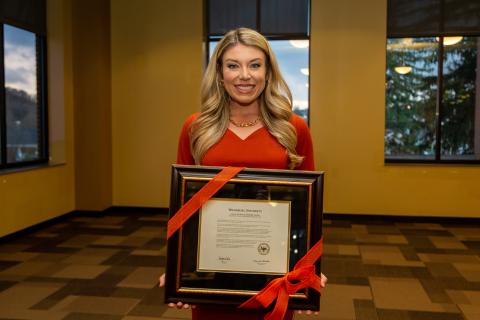 The Young Alumni Leadership Award, first awarded in 2019, is presented to a young alumnus, under the age of 35, for their accomplishments and service, by having distinguished themselves as a leader among their peers and in their profession, community and/or the University.
Mrs. Haley Hinds Axelbank was recognized this year for her early success in the field of broadcast journalism and for her community service involvement.
Axelbank has been awarded the Best Individual Achievement Award by the Florida Associated Press Broadcasters, named a runner-up for a Florida AP Award in Breaking News and nominated for a Suncoast Regional EMMY Award in the category of Breaking News.
She is currently an anchor/reporter for FOX 13 News in Tampa, Florida.