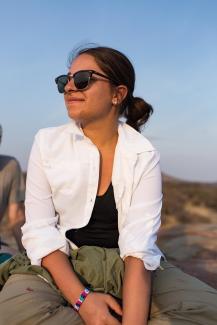 Rachel Nelson is passionate about two things: teaching and chimpanzees. The 2016 Waynesburg alumna said Waynesburg University played an integral role in fostering both of these passions.
"I'm just really grateful to have gone to a school like Waynesburg," she said.
Nelson, a third-year Ph.D. student at George Washington University (GWU) in Washington, D.C., graduated from Waynesburg in 2016 with a Bachelor of Science in biology and a minor in psychology. Before starting her Ph.D. program in 2019, Nelson worked at the Lincoln Park Zoo in Chicago, Illinois, studying chimpanzees and gorillas.
When she entered her Ph.D. program at GWU, Nelson decided to continue her work with chimpanzees. Even though she previously worked with this primate, she said her interest really began at Waynesburg University.
"I got that inspiration from a Waynesburg professor, which is really wonderful, and I'm very grateful," Nelson said.
Currently, Nelson studies female primate social behavior in wild chimpanzees of Gombe National Park, Tanzania. Her project will contribute to the site's long legacy of chimpanzee research started by famous primatologist Dr. Jane Goodall.
"It's really trying to understand how female chimpanzees are navigating their space and interacting with their environment to help overcome that hydration burden that lactation presents," Nelson said. "Being a female chimp can be very challenging. They raise their babies by themselves for five years, so I'm just trying to understand how they're doing it."
Due to COVID-19 restrictions, Nelson is unable to collect data in Tanzania. However, she hopes to collect her own data in the near future.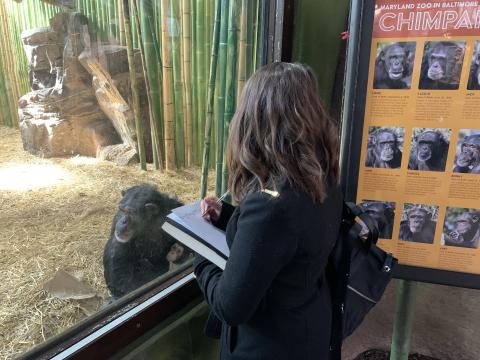 "We have research assistants that collect behavioral data from the chimpanzees daily, and they send the data to us over here," Nelson said. "Hopefully, pending COVID-19 restrictions, I will be able to go collect my own data this summer."
In addition to her Ph.D. research, Nelson also teaches undergraduate students in psychology, biology and biological anthropology courses. She is extremely passionate about teaching and hopes to continue teaching after graduation.
"I think that comes from going to a small teaching university like Waynesburg, where you just have a really good and really wonderful relationship with your professors," Nelson said. "I think that has really helped me understand that I love teaching and how important that student-teacher relationship can be to helping students succeed."
As much as Nelson aims to help other students succeed, she also strives for success as a graduate student.
In 2019, Nelson was awarded a graduate research fellowship by the National Science Foundation. The program recognizes and provides financial support for outstanding graduate students who are pursuing research-based master's and doctoral degrees.
"It's a very prestigious award and not everyone wins it, so I'm really proud of that," she said.
Nelson is also proud to have been accepted into her Ph.D. program where she will continue the 60-year legacy of Dr. Goodall's chimpanzee research.
"It's really tough to get into these programs because there's only so many people that study chimpanzee behavior," Nelson said. "I'm proud to be in my program and study what I get to study because not everybody gets to do that."