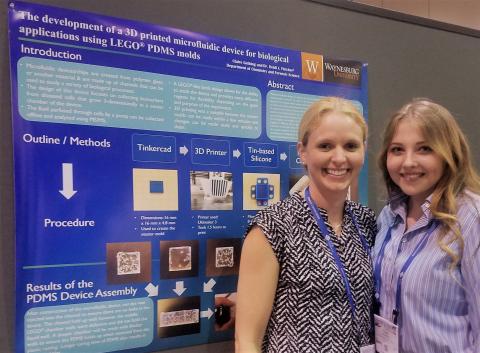 Claire Gething, a junior biochemistry major at Waynesburg University, was recently selected as the 2nd place winner for the Undergraduate Research in Polymer Science Symposium, for her poster presentation on an ongoing research project involving 3D printing and LEGOs. The symposium included more than 17,000 participants.
Alongside Dr. Heidi Fletcher, associate professor of chemistry, Gething is designing a microfluidic device to build a system for cells to grow three-dimensionally—all using a LEGO block design and to be printed with a 3D printer. She said the research has been exciting and rewarding.
"I have such a passion for this research because of how it relates to what I love," Gething said, referring to LEGOs. "I think this design has real potential when it comes to therapeutic drug research."
Gething was confident her presentation at the symposium went well—she said there was never a moment without someone talking to her about her research. Still, she was shocked to find out she had won 2nd place. She said she is exceedingly grateful for the experience and for the support she received at Waynesburg University.
"Waynesburg University supplied me with the resources, the space and the option to choose my own project to be a part of," Gething said. "I am so thankful for this opportunity, and I cannot wait to see what the future holds for this research."
STEM Opportunities
To learn more about STEM opportunities at Waynesburg University, click below.