Waynesburg University held the annual President's Donor and Scholarship Recognition Dinner Saturday, April 15, in the Benedum Dining Hall. At the dinner, the Golden Key and Young Alumni Leadership awards were presented to recipients.
Mr. Charles R. "Chuck" Jr. and Mrs. Shirley R. Baily received the 2023 Golden Key Award, and Mr. Nathaniel L. Carter Jr. received the 2023 Young Alumni Leadership Award.
"Waynesburg University's President's Donor and Scholarship Recognition Dinner is one of our most important events of the year," said Stacey Brodak, vice president of Institutional Advancement and University Relations. "Our donors are instrumental in the continued success of this institution by providing funding that supports our students in so many ways. This dinner allows us to showcase for them the wonderful outcomes that are achieved as a result of their gifts and to formally say thank you for their generosity."
The Golden Key Award is presented by Waynesburg University to alumni or friends of the University dedicated to a lifetime of significant leadership and involvement with the University.
This year's recipients, Mr. Charles R. "Chuck" Jr. and Mrs. Shirley R. Baily, were recognized for their long-standing history with the University and generous support throughout the years.
The Young Alumni Leadership Award is presented to young alumni, under the age of 35, for their accomplishments and service, by having distinguished themselves as leaders among their peers and in their profession, community and/or the University.
Mr. Nathaniel L. Carter Jr. was recognized for his service and leadership within the local community and beyond.
Mr. Charles R. "Chuck" Jr. and Mrs. Shirley R. Baily
Chuck first became acquainted with Waynesburg University when he attended a Bible study series in then-President Paul R. "Prexy" Stewart's office in junior high, but his family connection to the University began long before. His two grandfathers received their degrees from Waynesburg College, and his grandfather, Richard L. Baily, and father, Charles R. Baily Sr., also served as chairmen of the Board of Trustees.
In 1973, Chuck and Shirley became residence hall directors for Martin Hall in conjunction with a college ministry, the Coalition for Christian Outreach (CCO), where they served for three years.
Image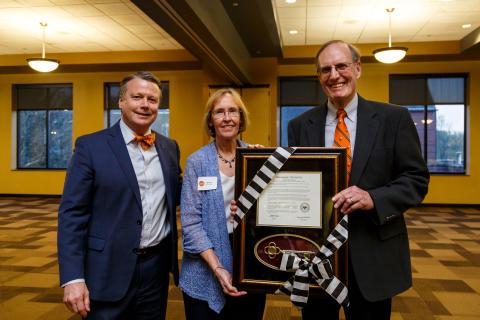 Afterwards, Chuck began working with his father at Baily Insurance Agency in Waynesburg, Pennsylvania once again, and Shirley began teaching within the University's Department of Mathematics, Computer Science and Physics after their children started school. She remained an instructor, both in part-time and full-time capacities, for 25 years.
Through the years, both Chuck and Shirley remained active in college ministry as members of First Presbyterian Church and as unofficial "partners" with all of the CCO staff who have served at Waynesburg.
The Richard L. Baily Memorial Scholarship Fund was created in 1992 by Richard's wife and three children to benefit graduates of Carmichaels Area High School and to honor Chuck's grandfather's lifelong friendship with "Prexy" Stewart and the College. Chuck and Shirley continue to be generous financial supporters of that fund and many other areas of the University and also invest time on campus engaging with students.
Mr. Nathaniel L. Carter Jr. ('10)
Nathaniel, a proud father, ordained minister, multi-business owner and non-profit founder, is a community activist and servant leader whose impact reaches beyond local borders.
He established the business This Generation Cares, LLC in 2015 and the non-profit This Generation Connect in 2018. In 2019, he started The Connect Center in East Pittsburgh, which aids in "the fight against food insecurity, engaging teens, providing healthy physical activities and serving as a ministry space." Globally, he served in Uganda and Kenya for nearly a month, speaking and working to support ongoing social and spiritual development efforts.
Image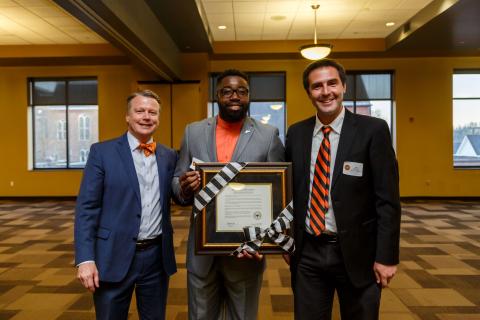 Nathaniel is a recent recipient of the New Pittsburgh Courier FAB 40 award and a nominee for the Coro Pittsburgh Distinguished Young Leadership Award. He and This Generation Connect received separate Certificates of Recognition by Senator Jim Brewster, State Senator of the Commonwealth of Pennsylvania's 45th District. In addition, The Connect Center was recently awarded Best of 2022 Community Center in East Pittsburgh.
An alumnus of Waynesburg University's Bonner Scholarship Program, Nathaniel has continued to remain active by offering students the opportunity to serve at The Connect Center over the last few years.
He graduated with a Bachelor of Arts degree in Sociology with a minor in Biblical & Ministry Studies from Waynesburg University, earned a graduate certificate in Church Planting and Revitalization from Pittsburgh Theological Seminary, and attended Sacred Sector Fellowship in Grand Rapids, Michigan.