Waynesburg University celebrated the life and work of the Rev. Dr. Martin Luther King Jr. with a convocation in Roberts Chapel Tuesday, Jan. 17.
The Rev. Dr. Asa Lee, Pittsburgh Theological Seminary President, served as the guest speaker.
Dr. King was brave enough to say what no one else wanted to say, that was his heart, and it cost him his life."
"Dr. King was brave enough to say what no one else wanted to say, that was in his heart, and it cost him his life," said Dr. Lee.
As he reflected on the life and teachings of Dr. King, Dr. Lee noted that Dr. King was not only a minister, but also a theologian with a Ph.D. who did not give public speeches, but rather, sermons.
During his convocation address, Dr. Lee explored Luke 6:45, "A good man out of the good treasure of his heart bringeth forth that which is good; and an evil man out of the evil treasure of his heart bringeth forth that which is evil: for of the abundance of the heart his mouth speaketh."
Sharing his interpretation of the Bible verse, Dr. Lee said, "...The fruit of one's actions is insight into one's character. This is an incredibly important teaching, because it helps us to understand the connections between actions and character. What we do pertains to who we are."
"Who we are, what we believe, and what we seek to build as a society, as a family, as a church, as a community, as a university, is a matter of who we are in our hearts," he said.
Image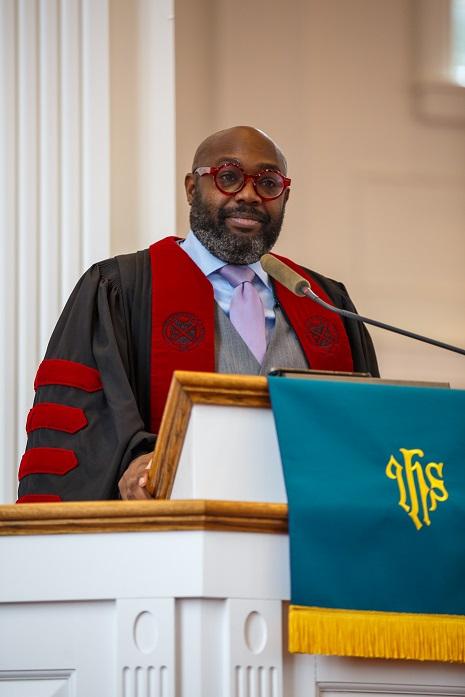 Dr. Lee urged those in attendance to consider what they will contribute to the world, referencing the origin of Waynesburg University's own Hanna and Miller halls, which were hand-built by early Waynesburg students and faculty.
"Those early generations literally left a treasure in the form of buildings," he said. "The question remains, what will your heart produce for a world in need of heart-led people?"
About the Rev. Dr. Asa Lee
Dr. Lee, also a professor of theological formation for ministry at Pittsburgh Theological Seminary, specializes in leadership in theological education, African American contextual theology, spiritual formation, and preaching.
Prior to joining the Pittsburgh Theological Seminary in 2021, Dr. Lee held various positions at Wesley Theological Seminary in Washington, D.C., including assistant director of programs for the church leadership center, associate dean for community life, director of African American Church Studies and vice president for campus administration.
During this same span, Dr. Lee served for 10 years as assistant pastor and minister of Christian education for Mt. Olive Baptist Church in Arlington, Virginia. He was also previously the minister of worship and arts for St. John Baptist Church in Columbia, Maryland.
In 2020, the Association of Theological Schools awarded Dr. Lee the Economic Challenges Facing Future Ministers Resource Grant, and in 2015, he received the Pastoral Excellence Network Grant from the Christian Theological Seminary.
Dr. Lee is a member of the American Academy of Religion, the Religious Education Association, and the Association of Leadership Educators. He is the acting president of the FaithJustice Foundation.
An ordained minister in the Progressive National Baptist Convention, Dr. Lee holds degrees from Virginia Theological Seminary, Wesley Theological Seminary, and Hampton University.
Consistently ranked a best value school, Waynesburg University's Strategy for the 21st Century affirms its commitment to developing an entrepreneurial mindset and ethical leadership skills for all students. Rooted in its mission of faith, learning and service, the private, Christian university is located on a traditional campus in the hills of southwestern Pennsylvania, with an additional site for graduate and professional programs in Southpointe.
# # #