Waynesburg University recently hosted Peter Cannellos on campus for a variety of student events.
Image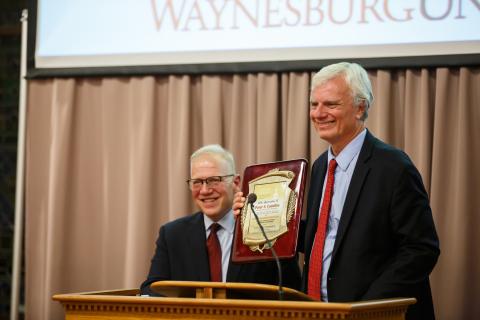 Canellos is a senior editor at Politico, a Washington, D.C., based news organization. Previously, he worked at The Boston Globe as an editorial page editor and bureau chief in Washington, D.C. He has overseen two projects that have won Pulitzer Prizes and has written two books, one about Supreme Court Justice John Marshall Harlan and another about Senator Edward (Ted) Kennedy.
During his visit, Canellos met with the Stover Scholars for a question-and-answer session over lunch, covering topics that ranged from his books to what it is like to work in the news industry, particularly in the nation's capital.
Following that, Canellos met with journalism students to offer advice about career options, news judgment and the editorial process.
Later in the evening, he spoke in Alumni Hall about his latest book "The Great Dissenter: The Story of John Marshall Harlan, America's Judicial Hero."
The book delves into the background of Supreme Court Justice John Marshall Harlan, who was responsible for several influential dissenting opinions that laid the groundwork for the civil rights movement.
"Having such a distinguished journalist, judicial biographer and attorney discuss Justice Harlan, one of the most famous American jurists, was truly a privilege for the Stover Scholar Program and Waynesburg University," said Dr. Lawrence Stratton, professor of ethics and constitutional law and director of the Stover Center for Constitutional Studies and Moral Leadership. "He spent an entire day with students discussing American constitutional law, journalism and writing, which was a phenomenal experience," Stratton said.