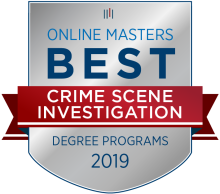 Waynesburg University's Master of Arts in Criminal Investigation (MACI) Program was recently recognized as a "Best Online Masters" Crime Scene Investigation Program, ranking in the top five of all similar programs in the nation.
"We are honored to be listed in such an elite group of educational institutions," said Adam Jack, associate professor of criminal justice, chair of the Department of Criminal Justice and Social Science and director of graduate criminal justice. "Our program is designed for working professionals, and courses are taught by top-notch industry experts."
Waynesburg's MACI Program was also awarded "Most Customizable," being acknowledged for advisors who "will personally help students customize the program to develop advanced investigative skills and techniques, through conceptual and theoretical coursework, and practical case studies," according to the report.
"Through our 100% online curriculum, we have been able to customize our high quality degree in Criminal Investigation to meet the needs of our graduate students," added Jack.
The research, conducted by Online Masters, was based on academic quality (academic metrics, online programming, faculty credentials and training), student success (graduate reputation, student engagement, student services and technology) and affordability (average net cost, percent of students with loans and default rate). 
The mission of Online Masters is to inspire others to influence society through the pursuit of higher education. The group, comprised of successful professionals with graduate degrees, creates proprietary research and data-analysis methods to find the nation's premier online masters programs.
Online Masters has helped more than 112,000 students, worked with more than 30 industry experts and analyzed more than 6,000 programs.
Learn More
To learn more about Waynesburg's MACI Program, click below or email Ben Brudnock, director of graduate and professional enrollment.