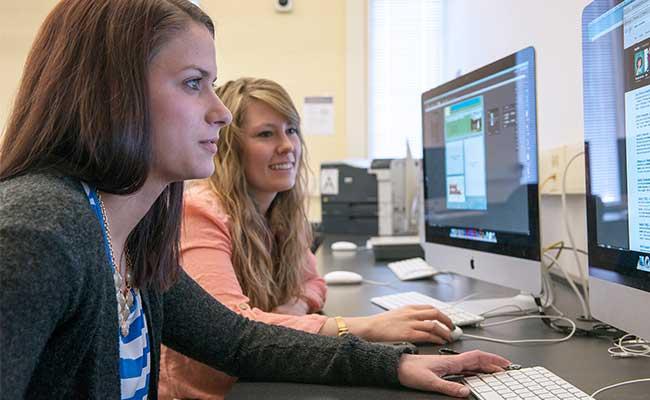 Grow your graphic design abilities
Study visuals and text as communication tools, the use of and theories surrounding web design and social media platforms, and the basic principles of design for effective presentation. This minor helps teach students from any curriculum about the importance and beauty of design. This minor is recommended for students that may be required in their career to communicate through compelling print or digital media. There are 24 credits required for this minor program.
| Department | Course Title |
| --- | --- |
| COM 126 | Principles of Design |
| COM 208 | E-publishing |
| COM 209 | Photography I |
| COM 215 | Web Production |
| COM 219 | Illustration |
| COM 308 | Document Design |
| COM 315 | Web Design |
| COM 439 | Design Seminar |
Explore Similar Programs
View similar programs in the Department of Communication.
Mad Anthony Yearbook
Members of our Mad Anthony Yearbook team can be seen taking photos at nearly any campus event. Through our commitment, we provide an excellent recap of the academic years here at Waynesburg University by publishing an annual book featuring events and students.
Design Club
The Design Club strives to enhance the knowledge of its members through skill application and by expanding members' views of design as it applies locally, nationally, and internationally. It assists members in finding purpose and pride in their work. The Design Club works with on-campus organizations and local nonprofit clients to serve the community while gaining industry knowledge and experience to use in the professional world.