Elementary/Middle Level Education (4-8): Science
Train to become a middle level science teacher.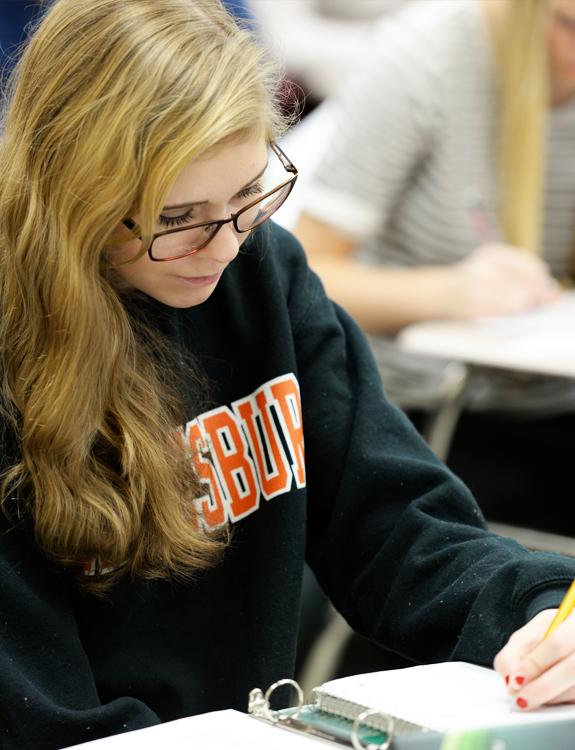 As a middle level education major, you'll learn to teach middle school age children and earn a Science teaching certification.
This course of study is required for a grades 4 through 8 teaching certification. You'll be prepared as an upper elementary teacher generalist and middle level teacher specialist, though it is designed primarily as a concentration in the education of upper elementary (grades 4-6) and middle school students (grades 7-8). 
As a student in the middle level education major, you'll select between two specialization areas, one of which has to be math or science. The Science track will prepare you to teach methods used by social scientists to analyze and evaluate human behavior as adapted for students in grades 4 through 8. You'll also learn to plan and implement scientific instruction including writing objectives that are consistent with PDE Science Anchors and Standards. Field experiences are integrated with coursework beginning freshman year.
Gain hands-on experience early
Teacher candidates are prepared outside of the classroom through field experiences, which are integrated with coursework, and begin as early as freshman year. Through a prominent curriculum, and progression through field experiences and the program, you'll be equipped with the knowledge, skills, and competencies required for a successful teaching career.
Prepare for focused study
As a middle level education major focusing on Science, your coursework will include a study of curriculum planning, teaching, learning, assessment and technology integration, and a required field experience will give you real-class experience before you graduate.
Coursework
View the academic catalog to further explore the curriculum.

The Department of Education at Waynesburg University offers teacher preparation  programs for elementary, elementary/middle, and secondary education which are approved by Pennsylvania Department of Education (PDE).