Literature
Welcome to literary studies, where you'll build a foundation of classic books, diverse authors, and fascinating history on your way to discovering why literature works.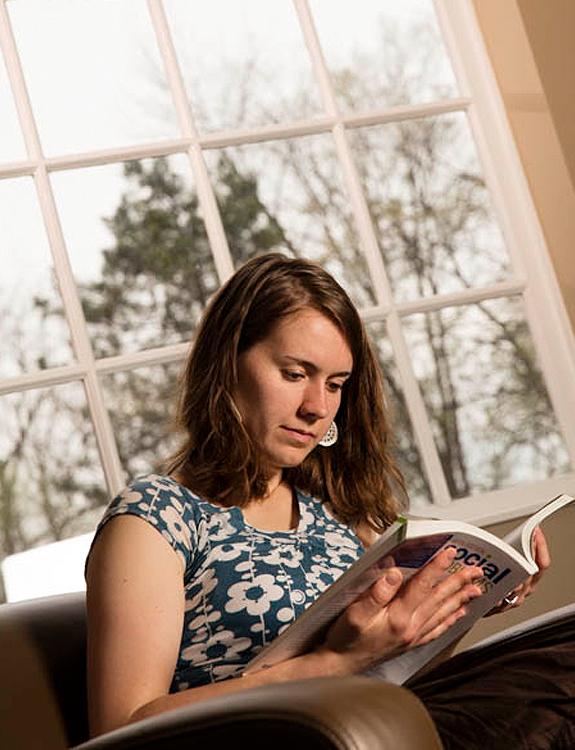 In our digital age, literature can still change the way you see the world. Texts come in diverse forms, and the ability to read critically is in high demand.
Take your passion for reading, add practice in writing, mix with strong interpretive strategies, and you're a literature major at Waynesburg University. You'll explore diverse texts from around the world, be challenged by others' stories, and dip your toe into the literary theory. From ancient works to popular culture, you'll become an educated reader as well as be prepared for a job that requires strong writing and critical thinking skills or graduate studies in literature, writing, or law.
Get involved on campus
Publish your writing in our literary magazine, The Muse & Stone, and work on the editorial staff, gaining hands-on experience. Write for the student Newspaper, The Yellow Jacket, join the Mad Anthony staff and put together a yearbook. Get a part in a play or work behind the scenes in the Goodwin Performing Arts Center. Go to poetry readings or the lecture series, present at conferences and enjoy fun times with the department community. Our English honorary, Sigma Tau Delta, is one of the oldest in the country. Mission trips, study abroad, campus praise team … There are so many ways to get involved!
Be yourself
English majors at WU can easily pick up a minor and even dual major in other disciplines. Biblical and Ministry Studies, Psychology, Theater, Business, History, Philosophy, Communications, Biology: wherever your interest lie, we'll help you chase them. Advisors will work with you to create a path of study unique to you.
Coursework
View the academic catalog to further explore the curriculum.