eHIVE
An Entrepreneurial Hub for Innovative Ventures and Endeavors
Pumpkin Drop
Connect with us below, email us, or follow us on Instagram!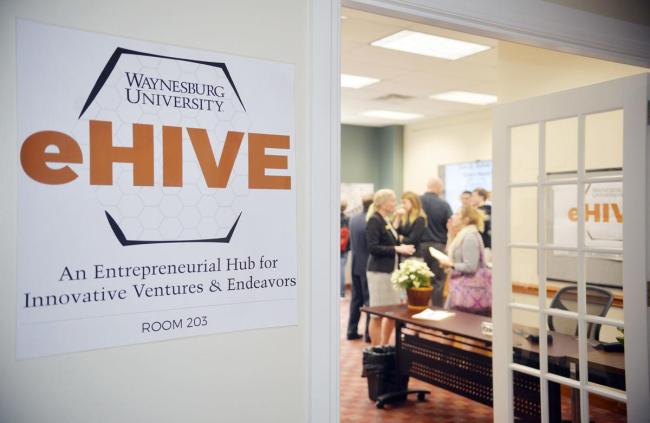 Welcome to the eHIVE!
We are glad you're here. The eHIVE is the extra-curricular innovative hub of the Entrepreneurial Leadership Program.
Our vision is to create a culture of proactive, innovative, ethical, problem solving which will provide Waynesburg University students with the skills, abilities and experiences they need to thrive in a rapidly changing world.
Where We Are: Room 203 in Stover Campus Center 
What We Do: We want to help you to see a problem and then solve it with a creative solution only you can develop .
Our Value Proposition: We help you move from idea to implementation.
View our recent Annual Reports:
Current Fall 2022 Course Offerings: 
Creativity & Innovation 
Entrepreneurship in Action 
Digital Prototyping 
How We Help
All Students
We serve students of all majors and minors across campus through our events and coaching.
Coaching
We provide one-on-one venture creation coaching to help move your project forward.
Programming
We've always got something going on, whether it's a competition, workshop, guest speaker, or something else entirely… Don't miss out!
"Don't fall in love with a solution. Fall in love with the problem."

Dr. Melinda Walls, eHIVE director
"The eHIVE represents the University's commitment to preparing students to be critical thinkers, to be adaptable, and to create a culture of problem solving, which is the hallmark of entrepreneurial leadership."

Douglas G. Lee, Waynesburg University President
"Waynesburg University is poised to instill a culture of innovation within its campus community with the launch of an entrepreneurial leadership center."
Points of Light Competition
Entrepreneurial Leadership
Something from Nothing 2020