Waynesburg University hosted its annual Homecoming celebrations Thursday, Sept. 21, through Saturday, Sept. 23. During halftime of the Saturday football game, the 2023 Homecoming King and Queen, Marco Moorby and Shekinah Chandler, were crowned.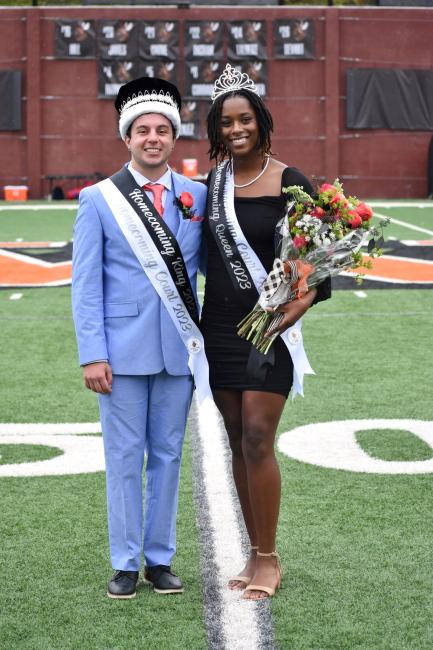 Moorby, son of Donald and Marilena Moorby, is a senior forensic investigation major and psychology minor from Carnegie, Pennsylvania.
On campus, Moorby is involved in cheerleading, Sting Swing, Forensics Club, Gateway, First Baptist coffee house and Empty Bowls. He is also a Bonner Scholar, president of Sting Swing, a leader of the Unity Trail and responsible for organizing the study abroad/internship program in South Africa.
"I was pretty shocked that I was voted for Homecoming King," said Moorby. "I can't express my gratitude enough to everyone that voted for me. I guess being King is one who represents Waynesburg as a whole, through learning, faith and service."
Moorby's future plans are to become a wildlife investigator and inform people about the same.
Chandler is the daughter of Norman and Debbie Chandler of Robinson Township, Pennsylvania. She is a senior nursing major and serves as the senior intern for the Bonner Scholars Program.
As a student, Chandler has been involved in the Vira I Heinz Global Leadership Program, the Bonner Scholars Program and participated as an athlete in lacrosse and track and field.
"Receiving Homecoming Queen meant a lot in so many ways," said Chandler. "To begin, it felt amazing to represent my culture. Representation means a lot to me and many within my community. Second, it reminded me of the support and the love I have here at this University. It acknowledged the growth I've had since becoming a student here and the loving community we strive to have on this campus."
After graduation, Chandler plans to pursue her master's degree in public health and hopes to begin her nursing career as a labor and delivery nurse.
The 2023 Homecoming festivities kicked off Thursday night with a virtual trivia night for alumni.
On Friday evening, an all-alumni combined class reunion was held at The Denny House in Waynesburg, where reunion classes of 2018, 2013, 2008, 2003, 1998, 1993, 1988, 1983 and 1978 were recognized. Also celebrated during this event was the 10th anniversary of President Lee's inauguration.
The Class of 1973 was honored Saturday for their 50th class reunion at a brunch hosted by President and Mrs. Lee.
Saturday boasted an array of in-person activities, which included the 27th Annual 5K Run/Walk; reunions for graduates of the Department of Nursing, Department of Biology, Environmental Science & Health Science, Department of Chemistry & Forensic Science, and Stover Scholars; and family festivities at John F. Wiley Stadium before, during and after the football game.
After the conclusion of the game, a dedication was held for the Wilson Gate in recognition of Reverend Dr. Donald Wilson ('64). President Lee gave the opening remarks.
A dedication of the University tennis courts was held in honor of Scott Bechtle ('73). During this dedication, the new plaque was unveiled and guests had the opportunity to view the recently renovated facility. Waynesburg University students Ethan Lown, a senior men's tennis player, and Julia Luzar, a freshman women's tennis player, gave the ceremonial first serves.