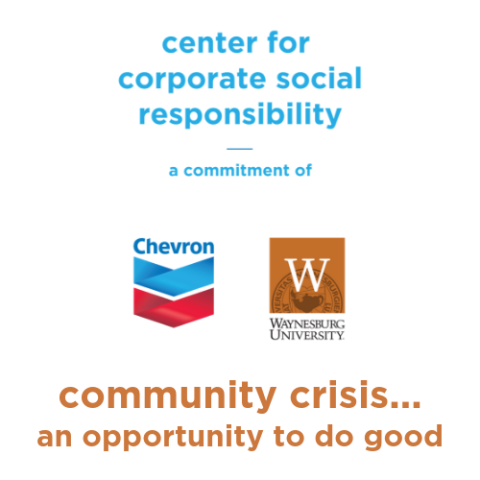 The Chevron Center for Corporate Social Responsibility (CSR) at Waynesburg University will host a CSR Workshop Thursday, Aug. 15, from 9 a.m. to 11:30 a.m. at NOAH's Event Venue in Southpointe.
Registration is open to the public. The cost is $35. To register, visit waynesburg.edu/aug15csr.
Members of the Chevron CSR Center may attend at no cost. For information on membership, visit waynesburg.edu/csrmembership.
The workshop's topic, "Community Crisis: An opportunity to do good when bad things happen," will focus on how companies and organizations can appropriately help communities deal with a crisis in socially responsible ways.
The event will share real-life advice and best practices through a moderated panel discussion, national and state-level case study scenarios and an interactive work session for participants, where they will engage in an interactive group exchange with mock scenarios.
Panelists will include:
Walt Jennings - American Red Cross (Southwest Pennsylvania)
Detective Sgt. Brian Kohlhepp – Ross Township Police Department
Trooper Robin Mungo – Pennsylvania State Police
Special Agent Jim Tanda – Bureau of Alcohol, Tobacco and Firearms (Ret.) and Waynesburg University Department of Criminal Justice and Social Sciences
Case studies will be presented by Chevron and Orion Strategies, a strategic communications firm that provides professional public relations, government affairs, and creative services, among other work.
The workshop will conclude with an interactive group exchange in which participants will engage in strategies and solutions for mock scenarios.
A continental breakfast will be provided alongside check in, which will begin at 8:30 a.m.
CSR Workshop
To learn more, visit the workshop webpage or to RSVP, click on the purchase ticket link.
For other questions or information, contact Matthew Stultz, corporate relations and communication specialist, at csr@waynesburg.edu or 724-743-4422.