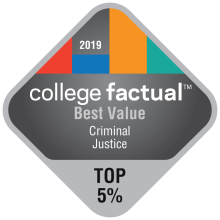 Waynesburg University's Criminal Justice Administration Program was recently named a "Best Value for the Money" by College Factual. Out of the 387 programs identified as a "Best for the Money," Waynesburg's program ranked No. 6, placing it in the top 1.5 percent nationwide.
The program was also ranked No. 2 in the state of Pennsylvania for value.
"The faculty, staff, students and alumni of the program consistently set the bar higher each year, showing that with hard work and dedication you can make a difference," said Adam Jack, associate professor of criminal justice, chair of the Department of Criminal Justice and Social Sciences, and director of the Graduate Criminal Investigation Program.
According to College Factual, the ranking was based on the following data: the average yearly cost of the school, the average time students take to graduate and the quality of education that students receive at the school.
This is the third consecutive year that the Criminal Justice Administration Program has been ranked a best value by College Factual. The program was initially ranked No. 25 in the county three years ago, placing in the top 10 percent.
"Our students are the next generation of criminal justice professionals, bringing both critical thinking and hands-on training, as well as compassion and ethical decision making, to a field that needs these skills more than ever," added Jack.
Waynesburg University, as a whole, was ranked by College Factual a "Best for the Money," placing in the top 5% nationwide. Additionally, the University has been recognized by U.S. News & World Report as a Best Value School, ranked at No. 6 on the Regional Universities North list.
Our Value
See who's talking about our value and why.