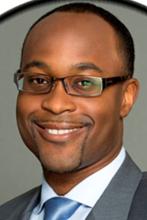 Waynesburg University will host Dr. Nicholas Pearce, author of "The Purpose Path: A Guide to Pursuing Your Authentic Life's Work," for a virtual fireside chat Thursday, Feb. 25, as part of the Rosetta Kormuth DeVito Lecture Series.
The 7 p.m. virtual event is free and open to the public. It will be presented via Microsoft Teams; to access visit waynesburg.edu/lecture.
"The Intersection of Race, Faith and Purpose: A Fireside Chat with Dr. Pearce," will be designed as a thought-provoking discussion meant to inspire audiences to align their daily work with their life's work in order to connect their soul with their role.
Dr. Pearce is the founder and CEO of The Vocati Group, a boutique global executive advisory consultancy. He is an award-winning clinical professor of management and organizations at the Northwestern University Kellogg School of Management.
He also currently serves as assistant pastor at Chicago's historic Apostolic Church of God, where he is responsible for overseeing Christian education and discipleship for the 18,000-member congregation.
Deeply committed to civic engagement, he serves on the boards of the Chicago Children's Museum, the Chicago Community Trust's African American Legacy Fund, Access Community Health Network and the Seminary Co-Op Bookstores.
Dr. Pearce has been named one of Chicago's 40 Game Changers (under 40), a Kellogg School of Management MSMS Professor of the Year, a Galbraith Scholar by Harvard University's Kennedy School of Government and a Public Voices Faculty Fellow by The OpEd Project.
His thought leadership has been featured in The Atlantic, The Chicago Tribune, Forbes, Fortune, The Los Angeles Times, National Geographic, The New York Times, Newsweek, NPR, Slate, Time, Univision and The Washington Post, among many others.
Dr. Pearce holds a doctor of philosophy degree in management and organizations from Northwestern University's Kellogg School of Management and a scientiae baccalaureus in chemical engineering and management from the Massachusetts Institute of Technology (MIT), with a concentration in religious studies, earned in conjunction with Harvard Divinity School.
For more information, contact Dr. Maire Leichliter-Krause, assistant provost for Academic Affairs and Institutional Effectiveness.
Rosetta Kormuth DeVito Lecture Series
The Rosetta Kormuth DeVito Lecture Series was created to explore topics related to business, culture and the arts. The lecture series, funded by the DeVito family, addresses a variety of current topics that are of interest to graduate and undergraduate students and the community.