Waynesburg University will host artist Joni Zavitsanos and Waynesburg University Board Chair Gregory J. Halvatzis Tuesday, March 21, as part of the Rosetta Kormuth DeVito Lecture Series.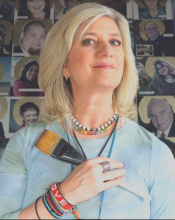 The lecture, "My Father's Daughter: Byzantine Art in the Modern World," will be held in Alumni Hall, the third floor of Miller Hall, at 7 p.m. This event is free, and the public is cordially invited to attend.
Unlike a traditional lecture setting, this event will be formatted in a question-and-answer conversation about Byzantine iconography—its purpose and importance in the beginning of Christianity—and the modern Byzantine art of Zavitsanos. Zavitsanos will be joined on stage by Halvatzis, who will talk about the development of Byzantine iconography from a historical perspective. He will discuss the history of the Byzantine Empire (Christian East Roman Empire) and how that history impacted the development of Christian art. Melinda Skrbin will serve as the moderator and will ask questions for each speaker to answer.
Zavitsanos is a Byzantine iconographer and contemporary artist whose work explores the earliest form of Christian art and its reflection in the modern world. She draws inspiration from her late father, renowned Byzantine iconographer Diamantis Cassis. Her work has been featured in more than 30 exhibitions since 1987, both internationally and domestically.
Halvatzis is a petroleum geologist and licensed professional geoscientist in Texas and Louisiana with a lifelong interest in church history and theology. For the last 30 years, he has co-taught adult education programs with Cassis, before his passing, and Zavitsanos at Annunciation Greek Orthodox Cathedral in Houston, Texas, where he is an active member. Halvatzis has served as a member of the Waynesburg University Board of Trustees for the last seven years and is the current Board Chair.
An art show exhibit featuring pieces from Zavitsanos and Cassis will be available for viewing before the lecture in the Skylight Room on the third floor of Eberly Library. The show will run from March 21 through June 20. The public is welcome and encouraged to stop by to view the exhibit.
About the Rosetta Kormuth DeVito Lecture Series
The Rosetta Kormuth DeVito Lecture Series was created to explore topics related to business, culture and the arts. The lecture series, funded by the DeVito family, addresses a variety of current topics that are of interest to graduate and undergraduate students and the community.
"My Father's Daughter: Byzantine Art in the Modern World" Art Show
Read more about the art show featuring work from Zavitsanos and Cassis from our press release below.