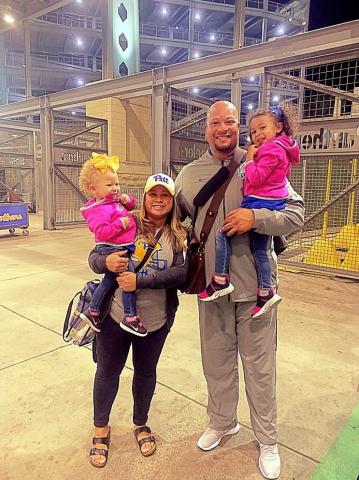 Waynesburg University is pleased to announce the hiring of Dr. Cornelius Coleman as its new Head Football Coach and Assistant Provost for Undergraduate Learning Experiences. Dr. Coleman has forged a reputation of success throughout his football journey, which included a decorated playing career as a Yellow Jacket defensive lineman.
"First and foremost, I just want to thank President Lee, Dr. Baer and Adam Jack for the opportunity. I'm honestly speechless and am so grateful," Dr. Coleman said. "I've been looking for opportunities like this for the past few years to become a head coach, share my knowledge and help young men grow academically, athletically and socially."
Dr. Coleman comes to Waynesburg following two years at NCAA Division I FCS member Duquesne, where he served as the Dukes' defensive line coach. This past season, Duquesne went 7-3 and won its final three games of the campaign. The Dukes also made school history when they defeated Ohio University 28-26 on Sept. 11, giving the program its first win over a current NCAA Division I FBS opponent.
Dr. Coleman and the defense saved some of their best work for last by shutting out Wagner 44-0. In that impressive win, defensive lineman AJ Garson piled up 3.5 sacks, 3.0 tackles for loss and 11 total tackles on his way to being named Northeast Conference Defensive Player of the Week. Following the conclusion of this past season, defensive lineman Maxi Hradecny was named second-team All-NEC.
During the abbreviated 2020-21 season, Duquesne went 4-1, with its only loss coming in overtime in the NEC title game. Hradecny was named first-team All-NEC for playing a major role in Duquesne's near-perfect season.
Prior to signing on at Duquesne, Dr. Coleman spent one season at the University of Pittsburgh, where he worked as a Defensive Quality Control Coach for the Panthers. While in Oakland, he worked primarily with the defensive line and learned under Pitt Assistant Head Coach and Defensive Line Coach Charlie Partridge. Dr. Coleman was part of a defensive staff that not only forged a unit that led Division I FBS in sacks, but also won the 2019 Quick Lane Bowl.
Before arriving at Pitt, Dr. Coleman spent four years at nearby NCAA Division I FCS member Robert Morris, where he again was charged with overseeing the team's defensive linemen. Under his tutelage, multiple RMU defensive linemen earned All-NEC laurels. In 2015, the Colonials led the league and ranked seventh nationally in sacks per game (3.09). They tied their single-season school record with 34 sacks and topped the NEC in tackles for loss (7.7/game), sitting 14th nationally. His unit helped RMU rank among the top 25 nationally in seven defensive categories, including third-down defense and fourth-down defense, two categories in which the Colonials led the league.
During his time at Robert Morris, Dr. Coleman was also given the opportunity to work for the Pittsburgh Steelers during their 2017 training camp as a Coaching Assistant working with the defensive line. He earned this prestigious position through the Bill Walsh Diversity Coaching Fellowship.
Prior to joining the staff in Moon Township, Dr. Coleman served as assistant head coach and recruiting coordinator at Averett University in Danville, Virginia, for seven seasons. During that time, he worked with both the defensive line and linebackers.
Dr. Coleman helped guide the 2008 Cougars to a single-season school record for sacks, which also put them at the top spot in the USA South for quarterback takedowns. In both 2009 and 2010, Averett led the league in turnover margin. The Cougars ranked sixth nationally in turnover margin in 2009, an accomplishment that helped three linebackers earn all-conference honors.
In 2011, Averett ranked 15th nationally in tackles for loss per game, and a trio of Cougars earned all-league honors along the defensive line, including Albert Brown, who earned All-American honors, and Corey Scruggs, who broke Averett's single-season sack records. Both standouts earned invitations to that year's Division III Senior Classic Game.
"I just can't wait to give those young men my knowledge and energy and just hit the ground running."
Away from the field, Dr. Coleman has spent multiple years on the American Football Coaches Association Minority Committee. He has also been selected to participate in the NFL-NCAA Coaches Academy on two occasions (2012, 2015), a unique opportunity that provides former NFL players and college coaches with tools and networking opportunities to further their careers on the sidelines. Dr. Coleman also authored an article, "The Five Most Important Drills for Defensive Line Play", that appeared in an issue of Gridiron Strategies in 2012.
 
Prior to his time at Averett, Dr. Coleman worked in multiple roles during his first stint at Robert Morris. He worked in the undergraduate enrollment office at the school from 2003 to 2007, first as a manager and then as an assistant director. He was also an assistant in the athletics compliance office from 2005 to 2007.
Dr. Coleman began his long journey in collegiate coaching and academics following four outstanding years at Waynesburg (College) University, where he was a four-year letterman. During his senior campaign of 1999, he was not only named first-team All-Presidents' Athletic Conference (PAC), but honorable mention All-American after leading the Yellow Jackets in both sacks and tackles for loss.
"We are excited to add Dr. Coleman to the Waynesburg University Athletic Department, as well as the campus community. His dual role as Head Football Coach and Assistant Provost for Undergraduate Learning Experiences will provide a unique opportunity to further solidify the strong commitment to academic excellence in the Athletic Department," said Waynesburg University Director of Athletics Adam Jack. "Dr. Coleman's mentoring and leadership in these areas will, undoubtedly, continue to push the Football Program, Athletic Department and the University to new levels." 
After graduating from Waynesburg with a Bachelor of Arts degree in Communication in 2000, Dr. Coleman went on to compete professionally in multiple leagues. He led the Dayton Skyhawks in sacks and tackles for loss, while starting all 18 games with the squad in 2000. He also started 10 games for the Roanoke Steam in 2002, for whom he played both defensive end and tight end.
While Dr. Coleman's work on the field will directly affect the lives of dozens of Yellow Jacket football players, his work as Assistant Provost for Undergraduate Learning Experiences will play a major role in the growth and development of Waynesburg's more than 1,200 undergraduate students.
"In addition to his many talents and gifts on and off the field, Dr. Coleman's servant heart and his commitment to his faith align seamlessly with the University's mission," said Waynesburg University Provost Dana Cook Baer, J.D. "With his deep interest in fostering a holistic and meaningful learning experience for all students, Dr. Coleman will help us advance a number of student success initiatives across campus in his role as Assistant Provost."
Dr. Coleman continued his education by earning a Master of Business Administration degree from Waynesburg (2003) and a Master of Science degree in sport management from Robert Morris (2006). He completed his Doctorate of Education in educational leadership from Argosy University during the 2014-15 academic year.
After more than 20 years after his final snap as a Yellow Jacket, Dr. Coleman is focused and ready to return to the place that he credits with setting him on a path to unquestionable levels of success. Not only is he thrilled to give back to the football program, but to the school community as a whole.
"To be presented with the opportunity to come back as an alum, it just makes me speechless. I just can't wait to give those young men my knowledge and energy and just hit the ground running," Dr. Coleman said. "I remember coming to Waynesburg and one of the things that turned me around as a person was the notion of community leadership there. It's just about getting out in the local community and letting it know what Waynesburg University is all about. I am so excited to bridge the gap and collaborate with athletics and academics and build new programs in student leadership." 
Dr. Coleman currently resides in Pittsburgh and is engaged to his fiancée Erica Cooley.