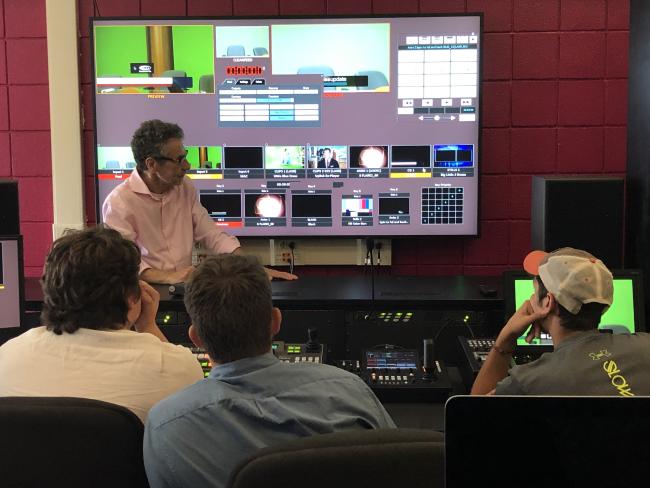 Waynesburg University's Department of Communication was recently awarded a grant from the FirstEnergy Foundation, which will provide technology upgrade assistance and support the COMM 3 to 1 Campaign.
"We are pleased to support this program to bring state-of-the-art technology to students at Waynesburg University," said Lorna Wisham, vice president of corporate affairs and community involvement at FirstEnergy.  "This grant typifies our ongoing investment in communities where we live and work. This new technology supports greater educational opportunities, and it will be used to benefit the community and all of Greene County, as well."
The $5,000 grant will translate to $15,000 because of the COMM 3 to 1 Campaign, which was made possible by the Stover Foundation. For every $1 donated, the Stover Foundation contributes $3.
The COMM 3 to 1 Campaign has raised funds for HD-capable technology upgrades to enhance the department's television studio and remote production systems.
Additionally, the FirstEnergy funds will assist Waynesburg University in expanding the scope and reach of its programming on Waynesburg's Public Educational Governmental (PEG) channel.
Upon implementation of the new HD technology, the Department of Communication plans to cover a variety of municipality meetings, including the County Commissioner meetings, as well as the Central Greene School District board meetings.
Randy Durr, manager of external affairs at FirstEnergy, presented the $5,000 check to Richard Krause, chair of the Department of Communication and assistant professor of communication, during a campus visit Aug. 21.
Waynesburg's Department of Communication has been nationally recognized as a best value in the 2020 College Factual "Best Colleges Nationwide" rankings. The University was placed in the top 5 percent nationwide for communication and journalism majors.