Waynesburg University honored its Commencement speakers during its Commencement Exercises Saturday, May 6, and Sunday, May 7.
Tom Foley, president of the Association of Independent Colleges and Universities in Pennsylvania (AICUP) and the Rev. Austin Crenshaw Shelley, senior pastor and head of staff at Shadyside Presbyterian Church in Pittsburgh, were awarded honorary Doctor of Humane Letters degrees.
In addition, Mindy Zatta, private wealth advisor with IronBridge Wealth Council, was presented the Timothy & Carolyn Thyreen Service Leadership Award.
The following citations were read:
Tom Foley
Tom Foley, in recognition of your exemplary work ethic and character, as evidenced by a varied and successful career through which you have made an invaluable positive impact on the state of Pennsylvania and beyond, Waynesburg University honors you.
You have served as a Belfast peace and justice advocate, state and federal government official, political candidate, state NGO chief executive, college president, and your important work continues today as you champion private higher education, lifelong learning and service through your leadership of AICUP.
Your efforts aimed toward improving public understanding of the important role of private higher education is commendable. Daily, you strive to ensure that tomorrow's leaders may continue to benefit from quality education.
Your strong ambition, demonstrated perseverance and dedication to serving others reflect the tenets of the Waynesburg University mission and serve as admirable examples to our students as they prepare to become the next generation of servant leaders. For that, we are pleased to recognize you.
In gratitude and respect for your accomplishments and for the ways in which you parallel the Waynesburg University mission of faith, learning and serving, it is with great honor that we confer upon you our degree of Doctor of Humane Letters.
Reverend Austin Crenshaw Shelley
Reverend Austin Crenshaw Shelley, in recognition of your passion and talent for sharing God's word through both ministry and sacred music, Waynesburg University honors you.
As you lead with love and vitality from the pulpit while striving to be a thoughtful and devoted spiritual leader, you inspire others to follow the way of the Gospel and to hear the call of Jesus in their lives.
Your exceptional contributions as both an author and musician have highlighted not only your immense talent and creativity, but also your deep conviction to God, igniting that same passion in others as you serve the Greater Glory.
With Christ at the center of your work, your passion for both children's ministry and ministry in the public square has set you apart as an outstanding role model and inspirational leader for people of all ages.
In gratitude and respect for your accomplishments and for the ways in which you parallel the Waynesburg University mission, it is with great honor that we confer upon you our degree of Doctor of Humane Letters.
Image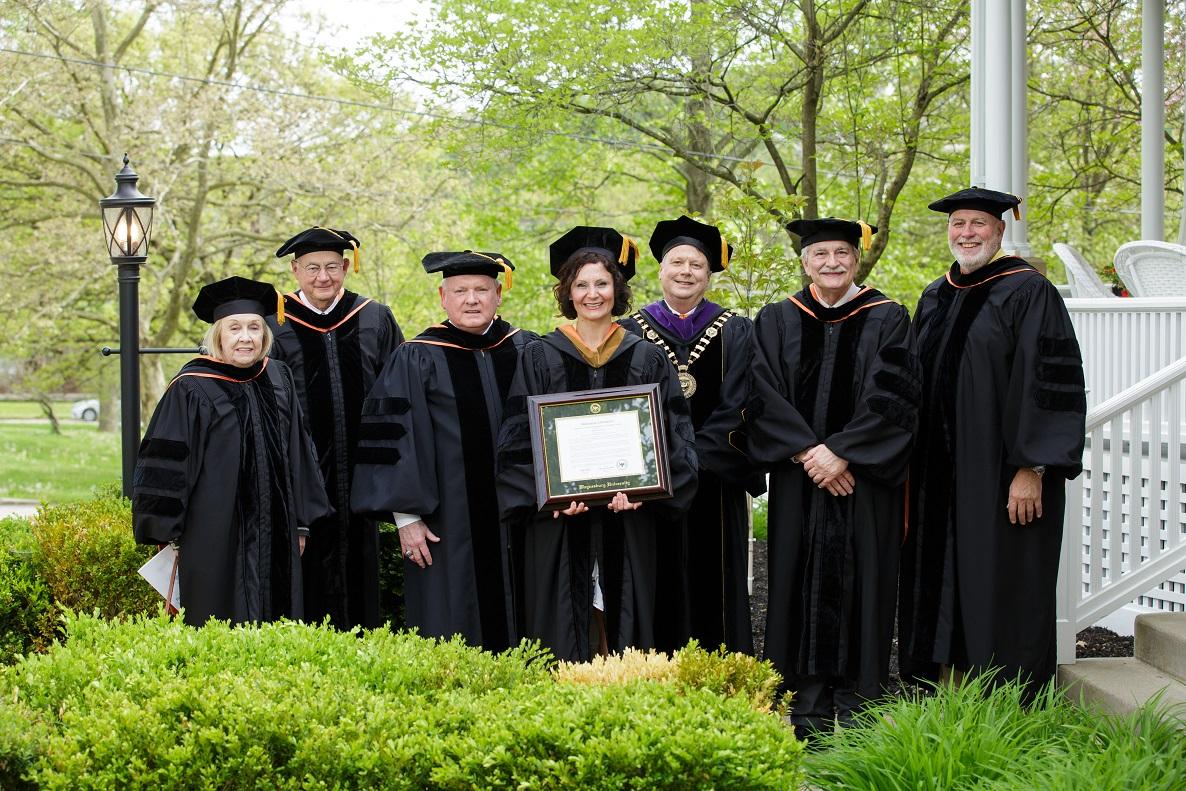 Mindy Zatta
This award celebrates Timothy and Carolyn Thyreen's legacy of serving others and is presented to those who exemplify servant leadership in their daily lives, resulting in a transformational effect on their area of focus. Ms. Zatta has significantly impacted the financial services industry throughout her career and advocated for women's leadership in our local communities.
For more than two decades, Ms. Zatta has dedicated herself to bettering the lives of her clients through financial service, guidance and education, earning the distinction of a Five Star Wealth Manager for ten consecutive years. Her impressive professional background, which includes working for national firms and achieving merit-based participation in esteemed networks, is a testament to her exceptional quality of work and genuine care of clients and colleagues alike.
Ms. Zatta prioritizes service and actively participates in numerous community organizations through volunteering and charitable contributions. Specifically, her work as the Investment Committee Chair for the Washington Health System Foundation Board and being an inaugural Waynesburg University Business Advisory Board member showcases her commitment to future community assets and business leaders.
In honor of the servant leadership exemplified by former Waynesburg University President Timothy Thyreen and former First Lady Carolyn Thyreen, and in recognition of her embodiment of the highest principles of this institution, Waynesburg University honors Mindy M. Zatta.
We have caused this award to be issued from the academic halls of Waynesburg University in the Borough of Waynesburg in the Commonwealth of Pennsylvania, and have hereunder subscribed the name of the President and the Seal of the University in the year of our Lord, 2023.
Consistently ranked a best value school, Waynesburg University's Strategy for the 21st Century affirms its commitment to developing an entrepreneurial mindset and ethical leadership skills for all students. Rooted in its mission of faith, learning and service, the private, Christian university is located on a traditional campus in the hills of southwestern Pennsylvania, with an additional site for graduate and professional programs in Southpointe.