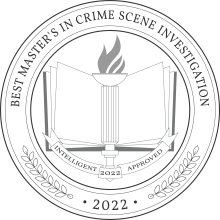 Waynesburg University's Master of Arts in Criminal Investigation (MACI) Program was recently ranked as the No. 1 online program in the nation by Intelligent.
For the third consecutive year, Waynesburg's MACI Program was No. 1 in the "Best Master's in Crime Scene Investigation" ranking and earned the distinction as the "Intelligent Pick."
"This number one ranking is a significant accomplishment for our program, as it makes three years in a row that we've been able to achieve this," said James Tanda, director of the MACI Program, director of security operations and emergency management, and instructor of criminal justice. "We're honored by Intelligent's rating, and we continue to work hard to maintain it."
Intelligent compared 443 education programs from 159 universities and colleges across the nation. All schools had to be regionally accredited to be considered, as well as offer any of the following degree types fully or primarily online: Master of Arts, Master of Science or Master of Criminal Justice.
According to their website, Intelligent utilizes a two-step methodology. The first considers three initial criteria: nonprofit, accredited and flexibility. Then, after the list is narrowed, Intelligent evaluates these five factors: program strength, student readiness, return on investment, cost and student engagement.
Waynesburg's MACI degree can be completed in one year (full time) or 18 months (part time) and is fully online.
Instructors are real-life practitioners who bring real-world experiences from their respective work with local, state and federal agencies.
Master of Arts in Criminal Investigation
Learn more about the MACI Program by reaching out to us or visiting the MACI Program's webpage.