Image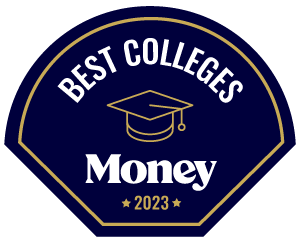 Waynesburg University has been recognized as one of America's Best Colleges in Money's 2023 rankings.  
"To find colleges that combine quality and affordability, Money analyzed dozens of data points, including graduation rates, cost of attendance, financial aid and alumni salaries. The result? A new star rating system with 736 colleges where your tuition (and time) is likely to pay off," Money's website reported.
This year, for the first time, Money grouped colleges into one of six ratings, from 2.5 stars to 5 stars, instead of a numbered ranking. Waynesburg University received a 4-star rating.
"Waynesburg University has a history of offering accessible, high quality, Christian education," said Waynesburg University President Douglas G. Lee. "This ranking reflects our commitment to that purpose."
Money's Best Colleges process starts with all of the four-year public and private nonprofit colleges in the country, a group that totals more than 2,400. Of those, 736 colleges met Money's criteria and were ranked based on 26 factors in three categories, including quality (30%), affordability (40%) and student outcomes (30%).
Quality of education was calculated using the following data: graduation rate; value-added graduation rate, which is the difference between a school's actual graduation rate and its expected rate based on the economic and academic profile of the student body; instructor access; and Pell Grant recipient outcomes, among others.
Affordability was calculated through the following: net price of a degree; net price paid by students in different income brackets; estimated average student debt upon graduation; ability to repay debt; and value-added student loan repayment measures.
The third factor, outcomes, was calculated using earnings 10 years after college entry; College Scorecard employment outcomes; value-added earnings; graduates' earnings adjusted for majors; economic mobility index; and return on investment.
For more information on Money's methodology, visit money.com/best-colleges/methodology.
Earlier this year, Waynesburg University was recognized as a 2023-2024 College of Distinction for its continued commitment to engaged, hands-on education for the eighth consecutive year. The University's programs in business, education and nursing also received specialized recognition from Colleges of Distinction.
Consistently ranked a best value school, Waynesburg University's Strategy for the 21st Century affirms its commitment to developing an entrepreneurial mindset and ethical leadership skills for all students. Rooted in its mission of faith, learning and service, the private, Christian university is located on a traditional campus in the hills of southwestern Pennsylvania, with an additional site for graduate and professional programs in Southpointe.
# # #
Value and Rankings
Consistently recognized as a top school within ranking systems focused on value and job placement, Waynesburg University has emerged as a national leader in educational value.