Waynesburg University issued a call for nominations for the 2022 Douglas G. and Kathryn D. Lee Servant Leadership Endowed Award today.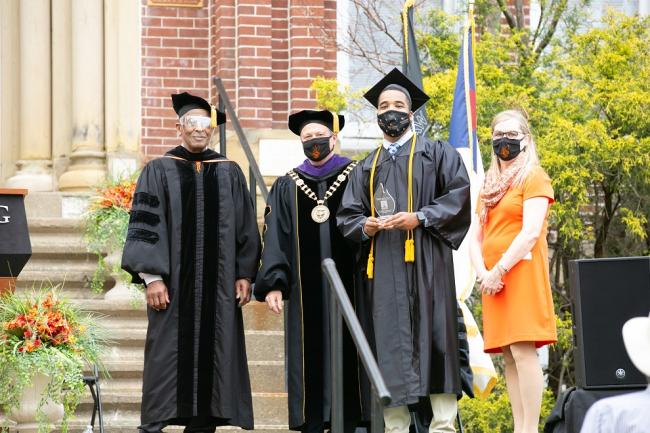 Nominations can originate from both within and beyond the University community; community members, businesses, churches, non-profits, etc., are encouraged to participate. 
The award, which is given annually at the University's Commencement Ceremony, is presented to one graduating student who has demonstrated exceptional leadership qualities over the course of their time at Waynesburg University in the mission focus areas of faith, learning and serving. The award recipient receives a monetary award of at least $1,000.
The award is intended to recognize an individual with an exceptional ability of providing leadership to make a positive impact on others within the Waynesburg University community, in their home community, or anywhere in the world.
The Waynesburg University Board of Trustees established the Douglas G. and Kathryn D. Lee Servant Leadership Endowed Award in 2020 to recognize the Lees' outstanding leadership of Waynesburg University throughout the ongoing challenges faced during the coronavirus pandemic.
Isaiah Skeete, 2021 graduate from Sinking Spring, Pa., was awarded the inaugural Douglas G. and Kathryn D. Lee Servant Leadership Endowed Award last year. Skeete is currently serving as an admissions counselor at Waynesburg University and is enrolled in the University's Master of Business Administration and Master of Arts in Criminal Investigation programs. 
"Being the first ever recipient of the Lee Endowed Award means the world to me!" said Skeete. "Waynesburg really changed my life for the better and allowed me to learn the importance of servant leadership. I loved being heavily involved in many different areas on campus because I was able to meet amazing people and help make a difference here at Waynesburg." 
Nominations for Skeete cited his leadership involvement in areas across campus and within the local community, from academics and service to the student-led Keep Waynesburg Well Team, a group dedicated to promoting health and safety on campus amid the pandemic. 
Skeete also served on the Diversity & Belonging Student Advisory Board and as Social Vice President on Student Senate. He was a Bonner Scholar, a resident assistant and a student ambassador within the Admissions Office. 
About Waynesburg University
Consistently ranked a best value school, Waynesburg University's Strategy for the 21st Century affirms its commitment to developing an entrepreneurial mindset and ethical leadership skills for all students. Rooted in its mission of faith, learning and service, the private, Christian university is located on a traditional campus in the hills of southwestern Pennsylvania, with an additional site for graduate and professional programs in Southpointe.
# # #
Douglas G. and Kathryn D. Lee Servant Leadership Endowed Award
Learn more about award criteria or to submit a nomination.