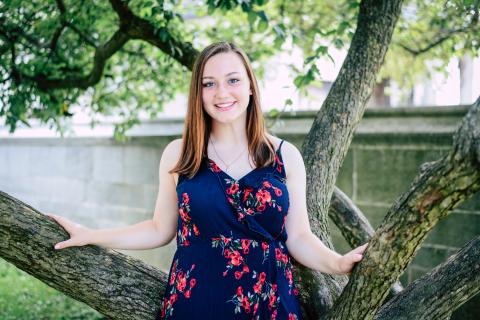 Waynesburg University has named high school senior Elizabeth Osche, daughter of Michael and Susanne Osche of Pittsburgh, Pennsylvania, a recipient of its new, full-tuition Founders Scholarship.
The scholarship, which covers all tuition and fees, was established in 2018. The scholarship is to be awarded to a maximum of three students who are first-time freshmen and Pennsylvania residents. Recipients must have a 3.5 GPA or higher, 1200 or higher on the Evidence-Based Reading, Writing and Math sections of the SAT or composite score of 26 on the ACT.
Jackie Palko, director of admissions, said the new scholarship is helping Waynesburg encourage great students like Osche and promoting academic excellence and achievement in the region.
"This competitive opportunity allows us to support some of the best and brightest in Pennsylvania," she said. "Waynesburg has a long history of providing a top-quality education and this scholarship program continues that tradition."
Enrolled for the 2019-2020 academic year, Osche has plans to study nursing and is interested in playing women's soccer.
A student at North Hills High School, she is the captain of the girls varsity soccer team and secretary of the French National Honor Society. She is a member of SADD, Hands for Service, Student Council and the French Club. Throughout her senior year, she has maintained a 4.1 GPA.
Hope Bidelman, daughter of Beth Mitchell and Jeff Bidelman of Windber, Pennsylvania, and Briston Bennett, son of John and Lisa Bennett of Mount Morris, Pennsylvania, were previously named Founders Scholarship recipients.
Scholarship Opportunities
To learn more about the Founders Scholarship or other scholarship opportunities, contact the Office of Admissions at 724-852-3216 or click on the link below.