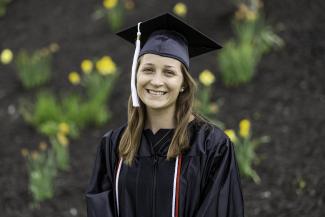 Waynesburg University honored the Class of 2022 during commencement ceremonies on Saturday, April 30, and Sunday, May 1, on the Lawn of Miller Hall.
More than 400 undergraduate, graduate and doctoral students were honored. Commencement exercises for graduate students were held Saturday at 4 p.m., while the undergraduate ceremony was Sunday at 2 p.m.
Rachel Pellegrino, a communication (electronic media) graduate from Yardley, Pennsylvania, was named one of three valedictorians. She is the daughter of Bruce and Gloria Pellegrino.
"Being able to represent the Class of 2022 at commencement as valedictorian is an honor," shared Pellegrino. "It's rewarding to see that all of my hard work and the hard work of the other valedictorians has paid off. It is also a testament to the support that all of my friends, family and professors have given me throughout this journey."
Waynesburg has allowed me to become a more confident woman, equipped with the skills to achieve my dreams after graduation."
In her field of study, she also earned a minor in journalism and gained hands-on experience through participation in The Yellow Jacket, WCTV, WCYJ-FM and the Society for Professional Journalists.
For The Yellow Jacket, Pellegrino achieved the role of executive editor during the 2021-22 academic year. Previously, she held the positions of editorial assistant, op/ed editor and managing director.
Additionally, she held a leadership position with WCTV as news director during her junior year and was the president of the Society of Professional Journalists for two years. Pellegrino was also a student writer for Waynesburg's Office of University Relations for three years.
Away from the Department of Communication, she was also a four-year member of the Cross Country and Track and Field teams, serving as captain during her senior year, and served as a Resident Assistant during her sophomore year.
Pellegrino also participated in service during her years at Waynesburg.
"Throughout my time at Waynesburg, I was able to participate in several service opportunities - from attending a mission trip to North Carolina freshman year, to participating in Light Up Night in Greene County," said Pellegrino. "Service is the little things you do throughout your day to help others. Service is sharing your gifts with others to bring joy to someone else's life."
In all of her work in and out of the classroom, Pellegrino earned a number of awards and accolades. She was a recipient of the Vira I. Heinz Scholarship, inducted into the Lambda Pi Eta Honor Society and named to the Dean's List every semester at Waynesburg.
Pellegrino was also a 2021 Student Emmy Nominee for News Reporting, won the 2021 Communicator Award of Excellence for a news package, won a 2021 Communicator Award for two individual articles and won the 2019 Society of Professional Journalism Mark of Excellence Award for General News Reporting (Region 4).
Recalling how she grew at Waynesburg University, Pellegrino shared, "I've grown in all areas of my life, whether that's in athletics, academics or personally."
"Waynesburg has allowed me to become a more confident woman, equipped with the skills to achieve my dreams after graduation," she added.
Pellegrino will be working as a multimedia journalist at WOWK-TV in Charleston, West Virginia, upon graduation.
The following students were also named valedictorians:
Kenneth Cairns III, a criminal justice administration graduate from North Huntingdon, Pennsylvania
Sophie Kipe, an early childhood education graduate from Chambersburg, Pennsylvania
Pellegrino delivered the valedictory to the Class of 2022 at the undergraduate ceremony May 1.