Students at Waynesburg University and the surrounding community will have a unique musical experience when Resident Artists of the Pittsburgh Opera and Mark Trawka, director of musical studies, bring their talents to the Goodwin Performing Arts Center Thursday, Feb. 16.
There will be two events that evening, both free to the public. The first is an opera workshop at 5 p.m., during which Trawka and Waynesburg University Assistant Professor of Vocal Music and Director of Choral Music, Melanie Catana, will lead Waynesburg students and opera artists in a reconstruction of two famous scenes from Giuseppe Verdi's operas "Nabucco" and "Il Trovatore." High school students with an interest in theater are encouraged to attend the workshop.
The second event is a concert in the Goodwin Performing Arts Center of famous arias, duets and ensembles from the operatic and musical theater repertoires at 7 p.m. 
Giuseppe Verdi had a promising start to his career with his first opera "Oberto," but the failure of his second opera in 1840 left Verdi bitter and uncertain about his future as a composer. He was also grief stricken over the recent deaths of his children and his wife, Margherita. These tragedies defeated the young composer. One day in frustration, he threw a libretto onto the table, where it opened by chance on the line, "Fly, thoughts, on golden wings … [to] our native land." This simple plea made by the Jewish slaves under the oppression of King Nebuchadnezzar inspired Verdi to write one of his most famous melodies and secure his place in history. "Va pensiero" would become the anthem of Italian unification in the 1800s. This famous scene from "Nabucco" is one of the opera scenes Trawka and the Pittsburgh Opera artists will workshop with the Waynesburg University Lamplighters Choir.
The Pittsburgh Opera regularly engages in educational activities in Western Pennsylvania to bring opera alive for young students.  The workshop will involve recreating a scene from an opera with simple blocking and singing. It teaches students stage acting, movement and character development as it relates to opera. Opera is both music and drama. Characters on stage pour out their hearts in beautiful melodies while acting for a live audience. In a workshop, students learn how to effectively merge the two arts of music and theater.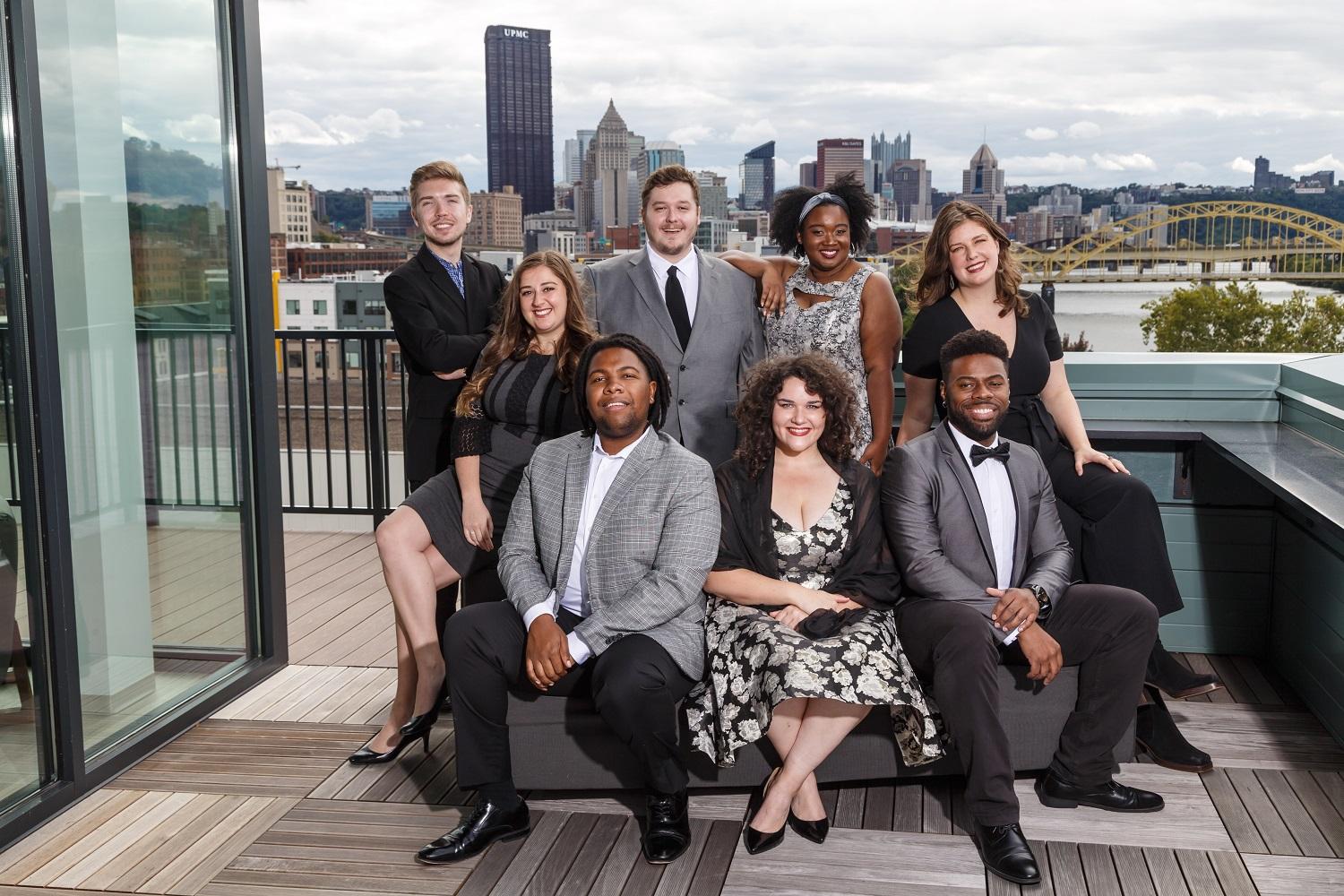 The Lamplighter Choir and Pittsburgh Opera Resident Artists will also workshop the famous "Anvil Chorus" scene from Verdi's masterpiece "Il Trovatore."  This scene opens Act II, which takes place in the Biscay mountains of Spain, where a band of gypsies surround multiple fires and sing about "lifting their hammers" for a brand new day of work. The choice of this scene has special importance this year as the Pittsburgh Opera will present a full production of "Il Trovatore" March 25 to April 2 featuring the Resident Artists who will appear at Waynesburg University.
The Pittsburgh Opera has a rich tradition of training young opera singers as they begin their journey into solo careers. Among the alumni of this rigorous program, include world renowned tenor Rolando Villazon, international mezzo Marianne Cornetti, Metropolitan Opera's Maria Zifcheck and the unmatchable comedic bass Kevin Glavin. Learn more about the resident artist program at pittsburghopera.org/resident-artists.
Trawka has been the director of musical studies at the Pittsburgh Opera's Resident Artists Program since the 2003-2004 season. He currently serves as chorus master for the opera and has made numerous appearances as pianist with singers in concerts around the Pittsburgh area. Prior to coming to Pittsburgh, Trawka has been a member of the music staffs at Houston Grand Opera, Dallas Opera and Glimmerglass Opera.
Catana has been preparing her choirs for this event since the beginning of the semester. The Lamplighter Choir, featured in the workshop, is an active music ensemble made up of students from all academic majors at Waynesburg University. They regularly rehearse and perform concerts of standard music repertoire throughout the school year on the University's campus and in the surrounding community.
Catana, who is an alum of the world-renowned Pittsburgh Opera Resident Artist Program, has worked closely with Trawka throughout her career. Bringing the world class voices of the Pittsburgh Opera Resident Artist Program to work with Waynesburg students gives students an opportunity to learn from the best artists in the country. 
The Music Program at Waynesburg University provides culturally enriching experiences for all of its students. Regardless of major, students can perform in a number of music ensembles such as the Lamplighter Choir, Symphonic Band, Jazz Ensemble and String Orchestra. Students can also complete a Bachelor of Music degree or pursue a music minor, where they can take a variety of courses in music. Many students also take one-on-one lessons in a variety of instruments from piano to voice to clarinet.
The opera workshop and concert are a part of the Performing Arts Series at Waynesburg University. Each year, the University's Music Program presents concerts in the classical tradition featuring nationally recognized artists. Students and the Waynesburg community are able to attend these concerts for free.